Bunny Morse Celebration of Life
by Brian Morse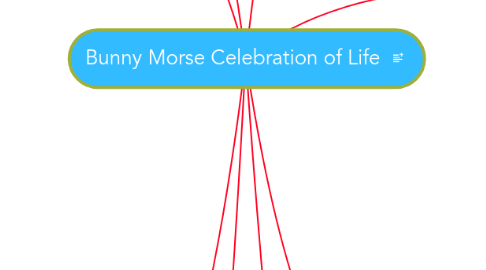 1. Places Lived
1.1. Oxford Maine
1.2. Norway Maine
1.3. Boston Massachusetts
1.4. Fort Huachuca Arizona
1.5. Westbrooke Maine
1.6. Auburn Maine
1.7. Nashua New Hampshire
1.8. Englewood Florida (1992)
1.8.1. Brian and Debbie Morse, and their 3 children, and Carol Lecius (Debbie's Mom) all moved to Bradenton, Florida (1999) so the girls could be closer to their grandparents
2. Places Travelled
2.1. OUR TRIPS.doc is a list of trips Bunny and Bob made over their life together.
2.2. Las Vegas, Nevada with Son Brian Morse
2.3. Norwegian Cruise Line to Nassau Bahamas
2.4. Maui Hawaii for Family Christmas 2014
2.5. Viking River Cruise
2.6. London and Southwest England, September 2019
3. Memberships and Volunteer Work
3.1. Community Presbytarian Church Choir
3.2. Lemon Bay Woman's Club of Englewood Florida
3.3. Volunteer at Lemon Bay Park
3.4. Volunteer at Jacaranda Library
4. Bunny's Favorites
4.1. TV Shows
4.1.1. Masterpiece Theater on PBS
4.1.2. National Geographic Channel
4.1.3. Fawlty Towers
4.1.4. ABC World News Tonight
4.2. A List of Books Read by Bunny (over 500 since she started keeping a log in 1999)
4.3. Birdwatching and Identification
4.4. The firespike bush in the front yard where the hummingbirds feed
4.5. reading, bridge, birding, swimming, puzzles and games of all kinds, travel, movies, lunches with friends.
5. Family
5.1. Grandparents (Mother)
5.1.1. Dr. Frank Barker
5.1.2. Gertrude (Holden) Barker
5.2. Grandparents (Father)
5.2.1. Hendersons emigrated from Scotland to (Rockport, ME?)
5.3. Mother
5.3.1. Margorie Louise (Barker) Henderson
5.4. Father
5.4.1. Arthur R. Henderson born in Lawrence Mass
5.4.1.1. Henderson family info gathered from Brian's conversations with Bunny
5.5. Beatrice Ann (Henderson) Morse siblings
5.5.1. Martha Hamill
5.5.1.1. 93 in 2019
5.5.1.2. b 1926
5.5.1.3. Robert Hamill d 1999
5.5.2. Edith Williams
5.5.2.1. 94 in 2019
5.5.2.2. b 1925
5.5.2.3. Joe Williams d 2014
5.5.3. Richard B Henderson
5.5.3.1. b 1927? d 1992?
5.5.3.2. Mirriam (Midge)
5.5.3.2.1. Vida and Thede (parents)
5.6. Bunny's Letter to Merry Chapin (daughter of Aunt Liz and Uncle Hubert) (Hubert Barker is brother of Margorie Barker Henderson)
5.6.1. email from Merry to Brian
5.7. Thelma Todd Story
5.8. Memories shared by Bunny's Nieces and Nephews (someone can copy and paste our recent txt messages)
6. Friends
6.1. Bunny has lots of friends - this can be a guest book to let her friends drop a note here to tell us about their memories with Bunny
6.2. How did you meet Bunny?
6.3. Ellie George - Colby College Classmate
6.4. Joan Symons - Roommate in Boston
6.5. Ann Mayes - Friend of Bunny and her sister Martha Hamill
6.6. Georgia and Bob Goodell - Friends of Bunny and Bob
6.7. Lynne Dowling - Friend from Australia
6.8. I found some interesting things inside Bunny's desk.
6.8.1. Hand crafted cards from Cheryl and Ed Baker, and Harold Smith (pen and ink sketch dated 1983)
6.9. Gene Whitney - "my twin"
6.10. Jennifer Furey - Neighbor/friend
6.11. Pat and Dean Stearns - Friends from Maine
7. Timeline
7.1. Born in South Paris, Maine
7.2. Growing up in Norway, Maine
7.2.1. I was an unexpected child and my sisters being 10+ years older helped raise me.
7.2.2. We were very poor growing up and never had a telephone until I was in high school! but had a happy and busy childhood in my small town.
7.2.3. Bunny began piano lessons at 5 yrs (sisters insist I was playing at 3 yrs!)
7.2.4. Skipped 1st grade ! loved being the "baby" of the class all thru school – graduated at 16.
7.2.5. Played Power Puff football in college and all the sports growing up – was a tom-boy, climbing trees, never played with dolls etc. Went skiing as soon as I could walk and did both downhill and cross country.
7.2.6. Class Trip to Washington DC 1954
7.2.7. was in all musicals and choir and choruses while growing up in Norway, Maine. (Bunny and her sister Marty took a virtual tour via Google Street View where she pointed out where the Opera House was on Main Street. There were lots of dances and plays at the Opera House.)
7.2.8. It was a small town so played everywhere for many groups – even a stint one summer with a pump organ at an Episcopal church when I was 15
7.2.9. I got so tired of playing in the orchestra that I begged the teacher to play an instrument instead and so got to play the marimba finally
7.2.10. Had singing lessons as adult
7.3. College
7.3.1. BA Psychology from Colby College (Maine)
7.4. Marriage
7.4.1. Bunny loved dancing and was voted Best Dancer in high school. On 2nd date with my husband we went dancing. Later Bunny and told him she married him because he was a good dancer. He had taken lessons in high school with white gloves and all!
7.4.2. Bob and Bunny's first date was July 27, 1957 at Jack and Carolyn Inman's wedding. Bob and Bunny were married April 12, 1958. Bunny knew instantly that this was the right guy for her.
7.5. Children
7.5.1. William R. Morse was born at Fort Huachuca, Arizona
7.5.1.1. Bob was in California at the time competing in a Pistol Shooting Match
7.5.2. Brian Henderson Morse was born in Portland, Maine
7.5.2.1. Bunny and Bob rented a house on Finch Street in Westbrook, Maine at the time Brian was born
7.5.3. Debra Ann (Lecius) Morse married Brian Morse in 1984 in Nashua, NH They had been high school sweethearts since 1979. Went to UNH together and lived in Dover, NH
7.6. Brian and Debbie gave Bunny and Bob three wonderful grandchildren
7.6.1. Jamie Alyssa Morse was born in Nashua, NH
7.6.2. Erin Olivia Morse was born in Nashua, NH
7.6.3. Hannah Elizabeth Morse was born in Nashua, NH
7.7. Family? (Where are they now?) _ in Bunny's words as she answered a questionnaire for her Church Choir in Englewood
7.7.1. _Son and family in Bradenton who has 3 girls – one in Tokyo, one in France and one as reporter for Palm Beach Post. Daughter-in-law works for Manatee School System.
7.7.2. A sister (96) in Lynn Mass, A sister (95) in Charlottesville, Va and a sister-in-law at the family farm in Norway, Maine. Am very close to my sisters as they helped raise me (being an unexpected addition to the family!)
7.7.3. My mother Margorie Henderson was Phi Beta Kappa at Colby back when women rarely went to college. (Margorie graduated Summa Cum Laude) Her father Dr. Frank Barker was the first doctor in Norway and she rode with him in horse and buggy on house calls.
7.8. Bob and Bunny's Grave
8. Work History
8.1. 11yrs old picking strawberries
8.2. Baby Sitting in Norway Maine
8.3. waitressing/hostess/short order cook
8.4. Piano Player at School Events at Opera House on Main Street in Norway
8.5. Waitressing during College
8.6. New England Telephone in Boston as Service Rep. handling new service orders and change orders then creating work orders for field service workmen (took this job after refusing a job with FBI when I didn't want to leave N.E. ! )
8.7. I. H. Morse Shoe Stores, Inc., Lowell, Mass
8.8. Administrator of an evening school branch of Hawthorne College in Hudson, New Hampshire
8.9. Digital Equipment Corp in Nashua, then Salem, New Hampshire. At that time DEC was largest computer manufacturer in the world second only to IBM. Began as a secretary then advanced to a Financial Analyst in the Engineering Department. Took early retirement after 12yrs.
8.10. Nielson Media Englewood Florida
8.11. Worked at the Jacaranda Library for 5yrs after moving to Englewood, Florida