THE SAMPLING PROCESS
by idzyan ismail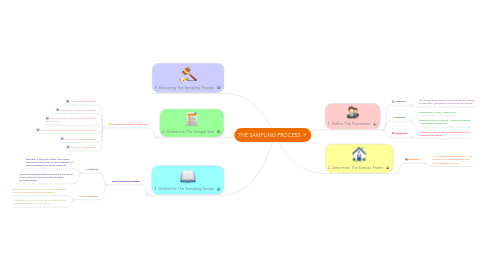 1. 1. Define The Population
1.1. Meaning
1.1.1. The target population must be defined in terms of elements, geographical boundaries, & time
1.2. Example
1.2.1. Expatriate in Klang Valley Hotel
1.2.2. Reading habits of elderly - target population is ppl aged 50 and over
1.3. Important
1.3.1. Illustrate that the research objective & the scope of the study
2. 2. Determine The Sample Frame
2.1. Meaning
2.1.1. Is a (physical) representation of all elements in the population from which sample is drawn
3. 3. Determine The Sampling Design
3.1. Types Sampling Design
3.1.1. Probability
3.1.1.1. Element in the population have some known,non-zero chance or probability of being selected as sample subjects.
3.1.1.2. Use when Representativeness of the sample is of importance in the interests of wider generalizability.
3.1.2. Non-Probability
3.1.2.1. Element do not have known or predetermined chance of being selected as subjects
3.1.2.2. Used when time or other factors, rather than generalizability become critical.
4. 4. Determine The Sample Size
4.1. Factors affecting sample size
4.1.1. The research objective
4.1.2. The extent of precision desired
4.1.3. The acceptable risk in predicting that lvl of precision
4.1.4. The amount of variability in the population itself
4.1.5. The cost & time constraints
4.1.6. The size of population
5. 5. Executing The Sampling Process