"CAUSES OF ACTION" (BASIS FOR LAWSUIT)
by angela black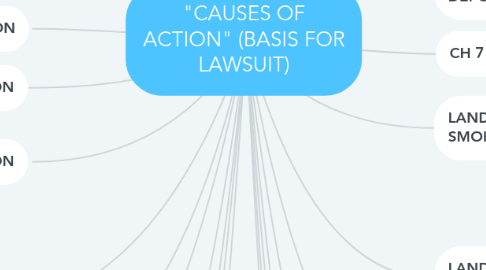 1. CH 2 ABUSE OF PROCESS
2. CH 3 ANIMAL ABUSE
3. CH 4 ASSULT
4. CH 5 CONTRACT ACTIONS
5. CH 6 CONVERSION
6. CH 7 DEATH ACTIONS
7. CH 8 DECEPTIVE TRADE PRAVTICES
8. EVICTION
9. BED BUG TENANTS RIGHTS
10. PROPERTY CODE: 92.201 DISCLOSURE OF OWNERSHIP
11. RESIDENTIAL LANDLORDS DUTY TO REPAIR
12. RETALIATION
13. LANDLORDS DUTY TO RETURN DEPOSIT
14. LANDLORD DUTY TO REPAIR SMOKE DETECTORS
15. LANDLORDS LIABILITY FOR UTILITY CUT OFFS AND INTERRUPTIONS
16. LATE CHARGE FEE
17. PROVIDING EMERGENCY #
18. RENTAL APPLICATION
19. LANDLORDS DUTY TO INSTALL SMOKE DETECTORS
20. LANDLORDS DUTY TO INSPECT SMOKE ALARMS AND FIRE EXTINGISERS
21. THE RIGHT TO LIVE IN DECENT, SAFE, AND SANITARY HOUSING THAT IS FREE FROM ENVIRONMENTAL HAZARDS INCLUDING LEAD PAINT
22. THE RIGHT TO HAVE REPAIRS PREFORMED IN A TIMELY MANNER UPON REQUEST
23. THE RIGHT TO BE GIVEN REASONABLE NOTICE, IN WRITING OF ANY NON-EMERGENCY INSPECTION OR OTHER ENTRY IN YOUR APARTMENT
24. THE RIGHT TO PROTECTION FROM EVICTION EXCEPT FOR SPECIFIC CAUSES STATED IN YOU LEASE.
25. THE RIGHT TO ACCESS YOUR TENANT FILE
26. THE RIGHT TO ORGANIZE AS RESIDENTS WITHOUT OBSTRUCTION, HARASSMENT, OR RETALIATION FROM PROPERTY OWNERS OR MANAGEMENT.
27. SOME EVICTIONS ARE PLACED ON HOLD. WHAT ARE MY OPTIONS?
28. THE RIGHT TO USE APPROPRIATE COMMON SPACES OR MEETING FACILITIES TO ORGANIZE (