Equations
by Michael DeLorme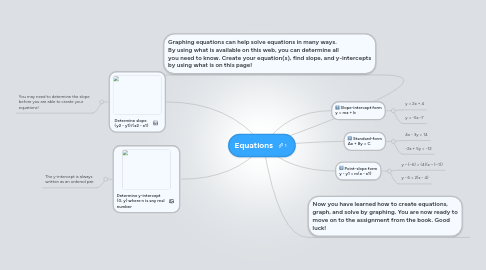 1. Slope-intercept form y = mx + b
1.1. y = 2x + 4
1.2. y = -5x -7
2. Standard-form Ax + By = C
2.1. 4x - 3y = 14
2.2. -2x + 5y = -12
3. Point-slope form y - y1 = m(x - x1)
3.1. y – (–6) = (4)(x – (–1))
3.2. y - 6 = 2(x - 4)
4. Determine slope (y2 - y1)/(x2 - x1)
4.1. You may need to determine the slope before you are able to create your equations!
5. Determine y-intercept (0, y) where n is any real number
5.1. The y-intercept is always written as an ordered pair
6. Graphing equations can help solve equations in many ways. By using what is available on this web, you can determine all you need to know. Create your equation(s), find slope, and y-intercepts by using what is on this page!
7. Now you have learned how to create equations, graph, and solve by graphing. You are now ready to move on to the assignment from the book. Good luck!