PMO Principles
by
Nick Alexander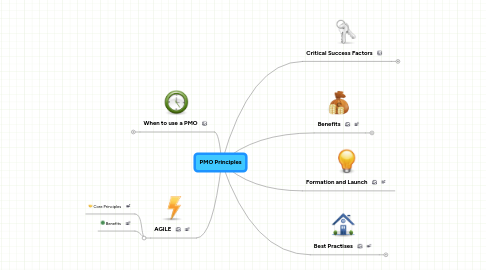 5.0
stars -
1
reviews range from
0
to
5
PMO Principles
Critical Success Factors
You - The way you work relates to the success of your business.
Your Enterprise: It is about your team, and YOUR organization. Your work is critical to creating competitive advantage.
Easy: Easy isn't a "nice to have", it's a "MUST have" !. The easier it is to use, the easier it is to get everyone on board.
Mid-office: Sitting between the front office and back office is all the work that the PMO does.
On-Demand: Login and access your work anywhere you have internet access.
Best Practises
Project Management Offices, PMOs, once a strictly IT focused department, in recent years, have proliferated across the enterprise. PMOs are the driving force behind establishing enterprise standards, managing and reporting on schedules, risks, budgeting, quality, scope, and resources across all projects. You must streamline the new processes and implement consistent metrics for measuring projects using the right tools.
Take the PMO outside Information Services
Most PMOs are established to manage massive, complex IT projects. But when you really think about it, you quickly realize that the business of business is projects. From opening a branch office, to hiring an employee, to developing a new product or service, to auditing financial reports, nearly every business function is essentially about planning, executing, and reporting on projects.  To get an entire enterprise focused on project success, the PMO must be designed, empowered, and equipped to serve the entire enterprise.
Focus on Methods
Processes and Metrics: The PMO is the guardian of corporate methodology, standards, and metrics. Begin with a thorough review and audit of the implementation of project management in your enterprise. Streamline methodologies, map out different models, and determine best practices. In departments where practices are less than satisfactory, the PMO can provide assistance (i.e., training, coaching, and mentoring) in complying with standard project management practices
Accessibility of the PMO "System"
Ensure the PMO communications and Documentation cetre is accessible from all locations withuin the Enterprise
Don't over-complicate the Process with Complex Tools
Project Management Offices frequently fall into the trap of utilizing software systems and tools built for the technologically savvy, not day to day business users. Some software is simply too difficult to use and customize, which discourages acceptance of the whole PMO concept.  At minimum a collaboration solution should have: • Discussion Platform • Document Organisation and Sharing • Project Templates • Real Time Task Management • Project Consolidation and Scheduling • Resource Allocation and variance reporting
When to use a PMO
Scope Changes
• Scope keeps changing throughout your projects, extra expertise is necessary to manage this change.
Multiple Suppliers
• Multiple contractors and vendors are necessary because of the complexity or size of the projects or as a condition of the bid process –The PMO has a centralized view of the solution and can help manage contractors and vendors across multiple projects or the enterprise.
Standardisation of Reporting
• It is necessary to provide consolidated reports and metrics across all projects
Single Source for Communications
• It is necessary to provide a single source for communications to the client or clients
Diversity of Location
Whenever services are being implemented across diverse geographic regions
Critical Timing
• Whenever time to market is a critical factor in completing the program or projects
Resurce Scarcity
Whenever limited resources need to accomplish multiple tasks or there is a conflict of requirements across Projects
Benefits
The PMO provides : • Project Management Services – trainer, consultant, practitioner of PM practices and techniques • Clarity of the role of projects and project management in the enterprise • Establishment of a standard project management methodology, including tools, a collaborative environment and communication standards • Development of forms and templates to facilitate the development of project estimates, project plans, project schedules, risk management, issues management, change management, project acceptance and project reports • a training progression for project management best practises and tools • training, coaching, guidance and mentoring - providing a workforce of competent project managers • a single point of contact for all project information • consultation to match business goals with appropriate technology solutions • increased resource utilisation across the organisation matching project needs with specialised skills, availability and geographic needs and helping to balance the workload of project managers and project team members across all projects • Management and enforcement of project priorities Utilising a collaborative workspace, the PMO staff can assist project managers with ; - administrative chores such as project schedule creation and update, report production anddistribution and maintaining other project documentsMethods, Processes and Metrics - Review and audit the implementation of project management in the corporation or enterprise to ensure good project management practices are being applied and provide assistance in complying with standard project management practices (training, coaching and mentoring) emphasiSing collaborative rather than punitive - Provide a central, customer-focused office to care for the concerns of the client, sponsor and stakeholders - Conduct, Collect and Report on information from project reviews - Receive, consolidate and distribute information for all projects - Provide assistance in selecting and analysing projects - Provide project metrics and a project dashboard or scoreboard for a variety of views throughout the enterprise - Ensure critical projects are on time and within the budget by providing objective accountability and review at every stage, from initiating to closing - A central point of control and communications for issues and risks across all projects - Provide centralised control of all projects under the control of the PMO - Increase communication and coordination across projects - Reduce project costs because common tasks are managed at the PMO level - Best-Practices and Lessons Learned Brokerage – document and collect successes and blunders - Gather project experience and data for use in future projects and to improve project management methods (knowledge management) - Collect the best documentation and techniques from each successful project to add to your project knowledge base such as project templates, estimates, etc. - Search outside the enterprise or company for best practices worthy of adopting internally
New node
New node
Formation and Launch
In a number of cases, the Project Management Office is both a physical location and project personnel. To start a Project Management Office, the company executive or senior manager responsible for project delivery will have to select an individual or individuals capable of: • Leading and managing a team to set up all functions of a PMO in a matrixed environment • Managing and tracking multiple priorities at the same time • Training, mentoring and coaching project managers • Communicating on all levels of project delivery • Managing and negotiating with contractors • Additionally, it is recommended that a company set aside a physical location ("War Room") and create a collaborative workspace to be used for the PMO. The "War Room" should be set up to accommodate the tracking and management of information such as whiteboards or bulletin boards to allow the posting and tracking of project schedules, financials and resource schedules. • The web-based workspace should be implemented to allow the project teams to collaborate.   Getting Started • Hire the PMO Director or Manager and the right people for the PMO • Set up the web-based PMO collaborative workspace and the physical space if needed • Create and agree on the project management methodology, templates, toolkits and tools to be used • Create the job descriptions, career progression and development paths and training needs and availability • Train all project team members in the process, the collaborative workspace, the methodology and the templates • Present all projects for consideration to the governance committee for selection • Start managing all projects with the methodology as a guide including the creation of the PMO and use the collaborative workspace for all activities • Consolidate all project documentations into PMO documentation and post to the collaborative workspaces • Coach and mentor project teams • Review projects while in progress and at completion. Present review information to the governance committee with recommendations to go forward, modify the project or discontinue the project to free up project and company resources • Collect and distribute customer satisfaction and project benefit information. Use the collaborative workspace as your presentation tool and portal for corporate project management knowledge
AGILE
Agile is Canadian DJ and producer who has worked with hip-hop groups BrassMunk and Big Black Lincoln. In addition to his work for his own bands, Agile has also produced tracks for Nas, Jully...
Core Principles
FOCUS ON ; 1. Individuals and interactions over processes and tools 2. Working software over comprehensive documentation  3. Customer collaboration over contract negotiation 4. Responding to change over following a plan These core agile principles were conceived in 1991 by a group of well known Agile practitioners who came together to establish a common framework for the Agile methodology. The document that came out of their meeting was the Agile Manifesto. The manifesto can be viewed at http://www.agilemanifesto.org/
Benefits
1. Response to change. In more traditional plan driven development, project value is not delivered until the end of the project. If the project does not hit the mark, it can be difficult for the organization to react. Agile takes an iterative approach to project management, so that business value is delivered incrementally. This allows the team to be nimble when market conditions require the business quickly change course. 2. Early Return on Investment. Agile focuses on delivering business value in short cycles called sprints or iterations. Each sprint/iteration delivers incremental product that is potentially shippable and thus allows the business to realize value immediately if they choose.  3. Stakeholder Satisfaction. The highest priority for all agile projects is to satisfy the customer. Agile requires very close interaction between developers and customers to make ensure that the appropriate work is getting done. The agile team operates with extreme transparency and allows stakeholders to be involved in all parts of the agile project from beginning to end.