Martin Luther King Jr.
by
Jenevie 4th perido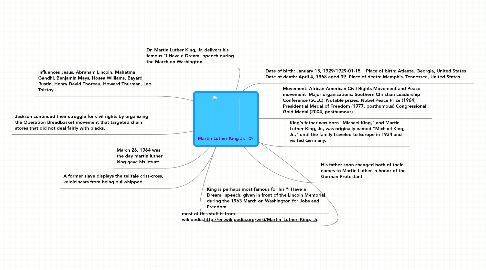 0.0
stars -
0
reviews range from
0
to
5
Martin Luther King Jr.
Date of birth: January 15, 1929/1929-01-15 Place of birth: Atlanta, Georgia, United States Date of death: April 4, 1968 aged 39 Place of death: Memphis, Tennessee, United States
Movement: African-American Civil Rights Movement and Peace movement Major organizations: Southern Christian Leadership Conference (SCLC) Notable prizes: Nobel Peace Prize (1964) Presidential Medal of Freedom (1977, posthumous) Congressional Gold Medal (2004, posthumous)
Influences Jesus, Abraham Lincoln, Mahatma Gandhi, Benjamin Mays, Hosea Williams, Bayard Rustin, Henry David Thoreau, Howard Thurman, Leo Tolstoy
King's father was born "Michael King," and Martin Luther King, Jr., was originally named "Michael King, Jr.," until the family traveled to Europe in 1934 and visited Germany.
His father soon changed both of their names to Martin Luther in honor of the German Protestant
King is perhaps most famous for his "I Have a Dream" speech, given in front of the Lincoln Memorial during the 1963 March on Washington for Jobs and Freedom.
March 26, 1964 was the day martin luther king gave his leture.
Jackson continued their struggle for civil rights by organizing the Operation Breadbasket movement that targeted chain stores that did not deal fairly with blacks.
most of this stuff is from wikipedia.http://en.wikipedia.org/wiki/Martin_Luther_King,_Jr.
Dr. Martin Luther King, Jr. delivers his famous "I Have a Dream" speech during the March on Washington
A former slave displays the telltale criss-cross, keloid scars from being bullwhipped.