Leveraging social media
by
David Black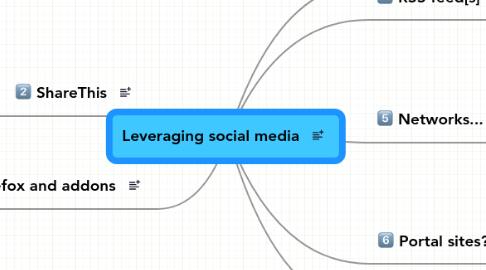 0.0
stars -
0
reviews range from
0
to
5
Leveraging social media
All tools on this mindmap are free except where noted with a $...
Feedblitz
Electronic newsletter?
Premium version is ad-free
RSS feed[s]
Most blogs provide them...
ShareThis
Don"t just send links; use ShareThis to post and share so you can track your users...
Browsing
Internet Explorer
Firefox
Publishing
Blogger
WordPress
etc.
Networks...
Use "friend finder" tools; the key is leveraging the networks in your network...
Twitter
Twitterfeed
Facebook
Internal autopost
FriendFeed
Get a room!, Seriously!
Get the bookmarklet
Plaxo
delicious
etc.
Ping.fm
Toluu
LinkedIn
Portal sites?
BlognetNews
Firefox and addons
Use Firefox; faster, extensible, more secure...
Email
WiseStamp
Blogging
ScribeFire
ShareThis
FriendFeed bookmarklet
Really serious?
Shoutlet
The ultimate in content "push"...
Electronic newsletter
Content tracking and delivery
Widgets