Operating Systems
by
Clarissa Valenzuela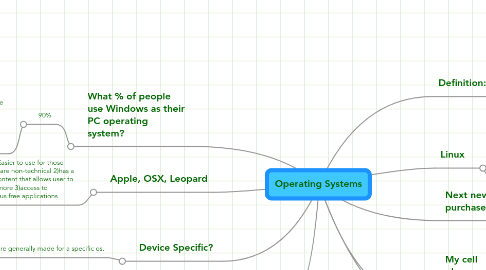 0.0
stars - reviews range from
0
to
5
Operating Systems
Definition:
A common space between user and hardware that is responsible for the management and coordination of activties that at shared.
What % of people use Windows as their PC operating system?
90%
My cell phone Operating Systems
T-mobile Sidekick Slide
Next new phone I hope to purchase
T-Mobile Sidekick LX
Device Specific?
Applications are generally made for a specific os.
Functions of the OS
Start menu
Major Cell Phone OS
Maemo=Nokia, Android=Google, bada=Samsung,
Linux
Pros: 1)can run on about every hardware system 2) Everything is free 3)management is easy
Apple, OSX, Leopard
Pros:1)Easier to use for those people are non-technical 2)has a lot of content that allows user to create more 3)access to numerous free applications