APPLES
by
Lara Ellingson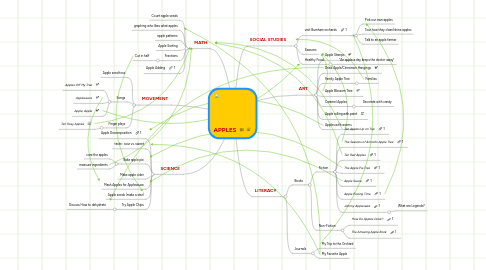 0.0
stars - reviews range from
0
to
5
APPLES
I will be teaching preschool next year.  I lcurrently live in Ohio (we are the second largest apple supplier in the US).  There are orchards everywhere.
SOCIAL STUDIES
Pick our own apples
Tour how they clean/shine apples
Talk to an apple farmer
Seasons
Healthy Food
"An apple a day keeps the doctor away"
MATH
Count apple seeds
graphing who likes what apples
apple patterns
Apple Sorting
Fractions
Cut in half
LITERACY
Books
Fiction, Ten Apples Up on Top, The Seasons of Arnold's Apple Tree, Ten Red Apples, The Apple Pie Tree, Apple Sauce, Apple Picking Time, Johnny Appleseed, What are Legends?
Non-Fiction, How Do Apples Grow?, The Amazing Apple Book
Journals
My Trip to the Orchard
My Favorite Apple
SCIENCE
taste: sour vs. sweet
Bake apple pie
core the apples
measure ingredients
Make apple cider
Mash Apples for Applesauce
Apple seeds (make a star)
Try Apple Chips
Discuss How to dehydrate
ART
Apple Stamps
Pierce the apple with a fork. The students can pick up the apples with the fork to dip in the paint and avoid getting paint all over their hands and clothes.
Dried Apple/Cinnamon Hangings
slice apples sideways and place in a lemon juice and water mixture for a few minutes. Moisten rigatoni pasta with water and then roll in cinnamon to coat. Using plastic needles and yarn, have children alternately string the apples and noodles. Add a country fabric bow to the top and dry near a sunny window.
Family Apple Tree
Families
Apple Blossom Tree
Have a large tree, use tissue paper to create blossoms.  Hang in classroom
Caramel Apples
Decorate with candy
Apple rolling with paint
Bring in crab apples, dip in paint, in a carboard box lid, have children tilt lid to roll painted apples around.
Apples with worms
MOVEMENT
Apple seed toss
Songs
Apples Off My Tree
Applesauce
Apple, Apple
Finger plays
Ten Rosy Apples