Time Management Topics
by
Дмитрий Витер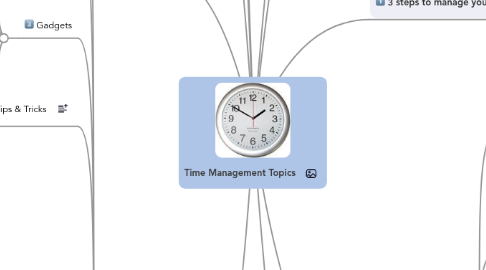 5.0
stars -
4
reviews range from
0
to
5
Time Management Topics
HOW TO READ THIS MIND-MAP?
START HERE
MOVE CLOCKWISE
Priority 1 - to be included into "2 hours short version"
Priority 2 - additions for full 8 hours version
Priority 3 - extra materials for advanced workshop
Inspiration
Romantic text about Value of time
Time is Life by Meril Douglas
Time is Life. With enough time, you can do almost anything. Without time you are finished. To spend your time is to spend your life. To waste your time is to waste your life. Time passes only once, yet many live their life as if there is the practice for the next time.
Victor Frankl's story
Romantic text "Select time"
Выбери время для работы – это цена успеха; Выбери время для раздумий – это источник силы; Выбери время для игр – это секрет молодости; Выбери время для чтения – это основа знаний; Выбери время для общения – это дверь к счастью; Выбери время для мечтаний – это путь к звездам; Выбери время для любви – это истинная радость в жизни; Выбери время для веселья – это музыка души.
What is time?
Время – ресурс Время – деньги? Время измеряется событиями Свойство времени: следующий год, день, час лежат приготовленные для вас, совершенно неиспорченные, как если бы вы не потратили бесцельно ни одного момента за свою жизнь.
Story about "Flower Girl"
Story about 3 stonecarriers
3 steps to manage your time
Set the goals
Plan your activities
Control the interruption
5 issues model
Отсутствие цели
Плохая организация работы
Нерешительность
Плохое делегирование
Неэффективные встречи
7 Habits staff
Mission Statements
7 Habits intro
Character and Individuality
Model "Stimulus-Reaction" (proactivity)
Sharpen The Saw
TIPS
Effective Writing and Reading
Tips
Методики Двойное использование времени Быстрое чтение Печать на клавиатуре Сон по Леонардо да Винчи
Gadgets
Time Wasters, Tips & Tricks
Telephone Interruptions Drop-In Visitors Socializing E-mail Meetings Personal Disorganization / Filing System Management by Crisis Attempting Too Much Delegation Inability to Say No Procrastination Poor Communication
30 tips
Dealing with interruptions Define who can interrupt you Let dept assistant pick up visitors Ask immediately the purpose of the visit Stand up when people come to your desk Be kind with people but rough with time Make appointment for later Make appointment in the other person's office Sit on the corner of the desk Keep informal talks for informal moments Telephone Let somebody else pick up your phones Handle your phone calls in block  Prepare your calls Keep an eye on your clock If you have difficulties in reaching somebody, place a call back / leave a message Meetings Take into account the time of the others Make agenda and stick to the timings Send the agenda in advance Avoid interruptions If interrupted, deal with it quickly Only attend those meetings you really need to be in Preparation and organization Have a clean desk Be aware of the time you loose Make a daily TO DO list Tackle it systematically Review your planning with dept assistant Let her handle your mail / filing Handle each piece of paper once (TSI) Use optimally lost time Install a large clock on the wall Delegate Don't perform somebody else's job Be assertive Don't over promise on timings Create private time
Time Management Concepts
Get Organized concept Warrior concept Goal/ABC concept Magic tool concept Go with the Flow concept
Get Organized concept
Warrior concept
Goal/ABC concept
Magic tool concept
Go with the Flow concept
Exercises
Exercise "Demonstrate Interruption"
Homework results
Why your score is different from the boss"s
Exercise "Business vs Personal"
Exercise "Yesterday"
Exercise "To Do Next Week:
Exercise "Draw a Square"
Exercise "Present for Grandma"
Exercise "Cross your hands"
Video
Video "Procrastination'
Power Of Vision Video
Video with Werner (Owls)
Pay it Forward Video
Big Rocks Video
References
Литература
Ссылки
Вопросы и ответы