TWC301 Reading Notes
by
Andrea Shacklett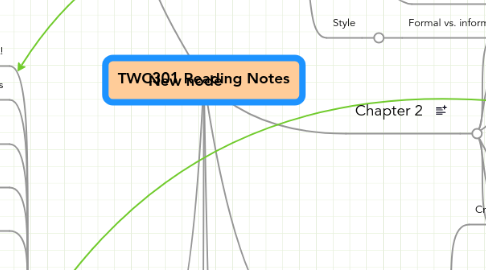 0.0
stars - reviews range from
0
to
5
TWC301 Reading Notes
Chapter 3
Technical Communication and Electronic Technologies
Creating Documents
Communicating/Collaborating
Chapter 1
Technical & Professional Communication in the Workplace
Audience
Research & Documentation
Visuals
Design
Style
Chapter 2
Rhetoric and Technical Communication  
Contexts and Constraints
Document Type
New node
Chapter 4
Ethics and the Workplace Writer
Questions for understanding ethical situation
§  What is my reason for writing this document? §  Who is affected? §  What authority do I have in conveying this information? §  What are the ramifications for conveying information this way? §  What responses is this document likely to invoke?
 Ethics and Technology - Environmental Ethics
Ethical Writer's Checklist
Chapter 5
Technical Communication in a Transnational World
Transnational vs. Transcultural
HB Pg 265: Be aware of how certain cultures communicate different types of messages; HB Pg 228: Total globalization isn't possible, you must consider cultural differences specific to your audience
Note differences:
Language, Technology, Education, Politics and Law, Economic, Religion, Translation
Avoid Stereotypes
Address Ethical Issues
Understand Localization
Goals of Internalization
Globalization is nearly impossible
Embrace a good translator
HB Pg 173: Avoid colloquial or casual language; Don't use slang
Chapter 7
Organizing and Drafting Documents
PSA!
Visuals
Front Matter
Title, summary, definitions
End Matter
Conclusion, troubleshooting, appendices,
Conclusion
Draft before introduction! Summary, predictions, recommendations
Instroduction
Purpose, scope, key terms
Body
Templates
Pre-established format; wizards: interface that leads user through tasks. Limits creativity
Strategize about Organization
Move on
No correct way to move from planning to finalizing; it's a non-linear process. (HB Pg. 569: Establish purpose, context, scope, research, and outline – transcribe into rough paragraphs)
Primary & Secondary Points
Ethics
Organizational Strategies
§  Sequential – ordered, transitioned (HB Pg. 507: For writing instructions) §  Chronological – Time lines, flow charts §  Order of Importance – Depending on delivery method – increase or decrease importance §  General/Specific - §  Division – divide a whole idea into parts; use images §  Classification - §  Cause and Effect §  Comparison and Contrast (HB Pg. 84: Helps audience understand a difficult or an unfamiliar subject by relating it to a simpler or more familiar one) §  Spatial
Outline