ARISTOTLE: Science Strikes Back
by Asha Lewis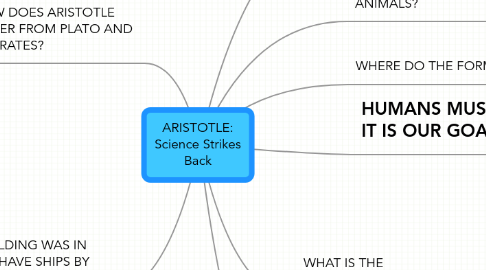 1. "All men by nature desire to know. An example is the delight we take in our senses."
1.1. This comes from his work "Metaphysics" Aristotle believes that nothing in nature happens by chances. We have senses to use them to understand the world.
1.1.1. New node
1.2. For Aristotle, to engage the problem of Knowledge, we must begin with our senses.
2. HOW DO OUR SENSES DIFFER FROM OTHER ANIMALS?
2.1. All forms of life have nutritive, reproductive, and locomotive.
2.1.1. New node
2.2. Animals differ by having the power of sensation and perception. More complex animals have intellectual power (problem solving ability)
2.2.1. Aristotle argues that humans have a special intellectual power called reason, which is the ability to comprehend universals.
3. HOW DOES ARISTOTLE DIFFER FROM PLATO AND SOCRATES?
3.1. Aristotle is more of a rational thinker. He doesn't believe in the world of forms.
3.1.1. New node
3.2. He creates and applies a scientific model to the philosophical
3.2.1. New node
4. WHAT IS THE TELEOLOGICAL SYSTEM?
4.1. Everything in the world has causes
4.2. material cause: the thing from which it is made
4.3. format change: the shape of form a thing must take to be recognized
4.3.1. efficient:the actual force used to make the thing
4.3.2. final: the ultimate purpose of the thing
5. "IF THE ART OF SHIP BUILDING WAS IN THE WOOD WE WOULD HAVE SHIPS BY NATURE."
5.1. you have to make something for it to be here.
6. Example of the System: The Doryphorous
6.1. material: Marble
6.1.1. form: contrappasto, shows for thought
6.1.1.1. efficient: chisel and hammer
6.1.1.1.1. final: teaching about greek virtue and math harmony
7. WHERE DO THE FORMS LIE?
7.1. the forms are in us. (DNA)
7.1.1. the oak tree is inside the tiny acorn. everything we see is goal oriented.
7.1.1.1. New node
7.2. New node
8. HUMANS MUST BE HAPPY IT IS OUR GOAL! :)
8.1. How does all of this apply to ethics?
8.1.1. Aristotle will break the idea down and scientifically provide a way to become virtous
8.2. The final cause for humans is happiness. or Eudaimonia
8.2.1. Ethics is the study of how humans obtain happiness