Jeffrey Piontek
by
Goran Kimovski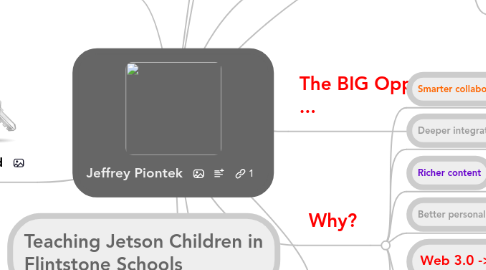 0.0
stars -
0
reviews range from
0
to
5
Jeff Piontek is an author, keynote speaker and teacher (most importantly).  Jeff is also the Head of School for the innovative Hawaii Technology Academy.  He has worked with US school districts nationally on affecting educational change and reform.  Jeff is a former Director of Instructional and Informational Technology for the NYC Department of Education and State Science Specialist for the Hawaii Department of Education.  Jeff is an educational innovator and the keynote speaker for the Computer Using Educators of BC Conference (CUEBC) this fall.  He has received many accolades including an award for "Innovation in the Economy by an Individual" from the Governor of the State of Hawaii for his STEM education work.  For detailed bio and video, click here.
The generational gap in technology use for education is enormous
The BIG Opportunity ...
The social graph just connects people
Communication, collaboration and creation is what makes the difference
Why?
Smarter collaboration
Deeper integration
Richer content
Better personalizatiom
Web 3.0 -> Web 4.0
We have moral obligation to our kids to stop educating them in Flintstone schools!
Legend
Use the + and - icons to expand/collapse nodes
Hover over the circle with lines to read attached notes
Well done!  
How do we educate for the future?
Schools have been designed in 19th century
Educators focus on 20th century paradigms
How do we move from the paradign based on standardized testing and graduation rates ...
How we do it in my school?
Hired teachers with the mindset that education should be different
We embraced social media
We focus on the inter-generational gap
How do we get the teachers prepared?
We don't!
... the change over the last 25 years will appear slow compared to the change in the next 25 years!
We honestly don't know what will emerge 25 years from now
What kids want
They want to be able to create and share that with others to learn and get feedback
E.g. in a highly tech school, kids can download from YouTube, but can't upload
student collaboration is key to students success
In the future ...
location will not matter
Virtual collaboration will dramatically increase