Creative Briefing
by Charlotte Jobson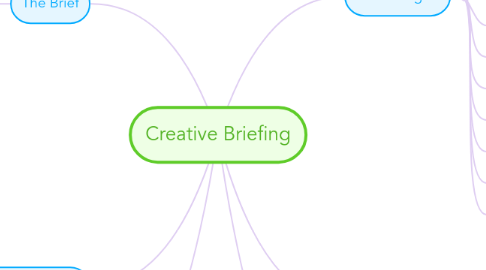 1. Consisting of
1.1. 1. Introduction
1.2. 2. Objectives
1.3. 3. Product
1.4. 4. Target Market
1.5. 5. Offers
1.6. 6. Media
1.7. 7. Support
1.8. 8. Restrictions
1.9. 9. Tone of Voice
1.10. 10. Competition
1.11. 11. Budget
1.12. 12. Timing
1.13. 13. Future
1.14. 14. Approval
2. The Brief
2.1. Who is the target audience?
2.2. What is the message?
2.3. What vehicle is being used?
2.4. What is being sold?
2.5. What are the features/advantages/benefits?
2.6. Prospects to do?
2.7. What is in it for prospects?
2.8. Where will the message be?
2.9. When will the message appear?
2.10. When will the message be received?
2.11. When is everything required?
2.12. What is the budget?
2.13. What are the constraints?
2.14. What worked/Didn't work?
2.15. Who is in charge?
3. How to Take a Brief
3.1. Research
3.1.1. Helps prevent better DM creative; up front; in stages according to creative process; include competitors as a control; forewarned is forearmed
3.2. Creative Process
3.2.1. Interrogate the process; interrogate target market; interrogate competition; marry product to market; develop offer messages; develop personality; draw up concepts; review; production
4. Creatives That Work
4.1. Reward the reader; repeat message 3x; illustrate copy; don't stereotype; specificity works; short headlines no worse than long headlines; new improves by 24%; humour adds 10%; celebrity adds 25%; coupons persuade; TV lift out adds 42%; more is more; involve; personalise
5. Review Against
5.1. AIDCA; DAGMAR; Objectives; target audience; response mechanism; barriers to response; creative guidelines; offer; brand/dual purpose
6. NASH 5 C's
6.1. 1. Concentration - Small ad with one element pulls better
6.2. 2. Cohesion - Brand, product, position, offer
6.3. 3. Convention - Semiotics: font, illustration
6.4. 4. Contrast - Impact on page
6.5. 5. Convection - Each element works together