One Direction
by Leo Edekere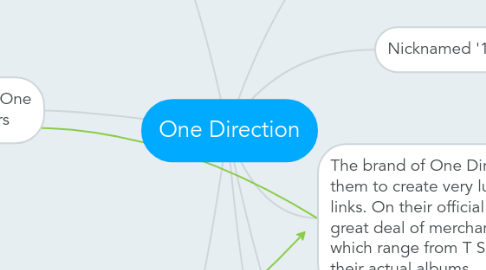 1. They are signed to Syco Music and Columbia Records
1.1. SyCo Music have the right to sign both the finalists and winners of The X Factor and Britain's Got Talent.
1.1.1. Syco Music is owned by music mogul and X Factor & Britain's Got Talent head honcho Simon Cowell.
1.2. SyCo records have not just limited themselves to artists from talent shows; they have found success recently in collabortation with Sony Music and artists who did no birth from talent shows such Labirinth
2. SyCo's most profitable artists have come from the X Factor including: Little Mix, Leona Lewis and of course One Direction
3. Nicknamed '1D'
4. At the height of their celebrity, One Direction included five members
4.1. Zayn Malik
4.1.1. Zayn has arguably gone on to have the most success in his still yet brief career. He was the centre of a widely publicised departure from the group which spawned a worrying hashtag from Directioners, #CutforZayn, where obsessive fans took pictures of self infilcted harm due to Zayn's departure. Malik claims he left '1D' to make 'real music', their boss Simon Cowell is adamant that they left on parted on cordial terms. Zayn's first single 'PILLOWTALK' took the world by storm reaching No.1 in both the UK and US charts respectively.
4.2. Harry Styles
4.3. Louis Tomilson
4.4. Niall Horan
4.5. Liam Payne
4.6. One Direction originally begun as solo acts auditioning on The X Factor. Instead of eliminating them early the judges opted to make a group of them and One Direction was born. They would subsequently exit at the quarter final stage and would be picked up by Simon Cowell and his record label - Syco Music/Records. Not before long they released their first single, ' That's What Makes You Beautiful', the songs was a smash hit that gave an indication of the stratospheric potential of this young boyband.
4.7. All 5 individual members have their own personal and steadfast fans. When brought together they help promote the unstoppable juggernaut known as One Direction
5. They are currently in the middle of an indefinite break to help further their solo careers
5.1. When they return, Zayn Malik will not be a member. He has completely ex-communicated himself from the group and it seems that he will be a solo artist for the forsea
6. Their fans have taken on the label - 'Directioners'.
6.1. One Direction's target audience is teenage girls as they are the main attendants of their concerts, the main buyers of their merchandise and their main supporters and defenders on social media.
7. One Direction are the first band in the US to have their first four albums debut at No.1 on the Billboard 200
7.1. They have 5 UK No.1's
7.2. Their 2013 album, Midnight Memories was the highest selling album of that year
8. The brand of One Direction has allowed them to create very lucrative synergy links. On their official website there is a great deal of merchandise to purchase which range from T Shirts to DVDs and their actual albums
8.1. Their albums can be purchased and consumed from their website in many ways. Available for purchase are digital and physical copies and surprisingly a vinyl copy. The physical and digital incarnations are to be expected as they are the modern ways of consuming music,the vinyl on the other hand was likely released in an effort to appeal to the older demographic.
8.1.1. An amalgamation of sponsorship, tours, album sales and merchandise has earned One Direction a reported combined net worth of $215million.