It is not okay to sneak food in the movies.
by Nicholas Noel Herrera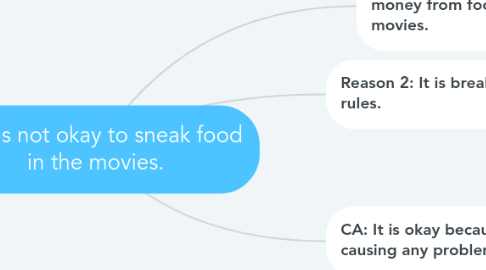 1. Reason 1: Theaters make more money from food not movies.
1.1. Evidence 1: "A huge chunk of what you spend on a ticket goes to the Hollywood studio" (O'Neil 28).
2. Reason 2: It is breaking the rules.
2.1. Evidence 2: "Worse you could be banned from ever coming back" (O'Neil 29).
3. CA: It is okay because it's not causing any problems.
3.1. Squash: "If we can't keep the majority of that ticker price there's only one way that we can pay for everything...and that's the concession stand" (O'Neil 29).