Meranda Weathers's Mind Map Vocab Project
by
Meranda Weathers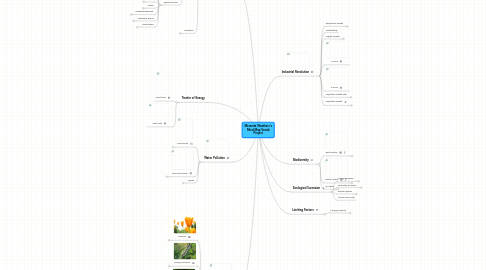 0.0
stars - reviews range from
0
to
5
Meranda Weathers's Mind Map Vocab Project
Levels of Organization
Organism
Population
Community
Ecosystem
Biome
Biosphere
Tranfer of Energy
Food Chain
Food Web
Trophic Levels
A tropic level is the transer of energy through an ecosystem.
Producer
Primary Consumer
Secondary Consumer
Tertiary Consumer
Quaternary Consumer
Biodiversity
Definition: The existence of a wide variety of plant and animal species in their natural environments.
Biotic Factors
Definition: Living parts of an ecosystem.
Abiotic Factors
Definition: Non-living parts of an ecosystem.
Hot Spots
Ecological Sucession
Definition: A series of enviromental changes.
Primary Sucession
Secondary Sucession
Pioneer Species
Climax Community
Limiting Factors
Definiton: Conditions of the enviroment that limit the growth of a species.
Carrying Capacity
Industrial Revolution
Exponential Growth
Sustainability
Logistic Growth
J-Curve
S-Curve
Population Growth Rate
Population Growth
Definition: The grow of population over a period of time.
Water Pollution
Point Source
Non-Point Source
Aquifer