MITE 6330-Learning Design and Technology-Individual Assignment
by
Sergio Cardenas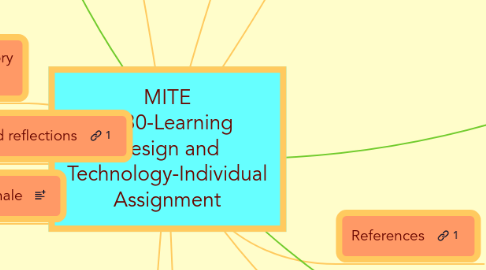 0.0
stars -
0
reviews range from
0
to
5
Main source: Tennyson, Robert D. (2010), Historical Reflection on Learning Theories and Instructional Design, Contemporary Educational Technology, University of Minnesota, pp. 1-16.
Behaviourism
Constructivism-More open-ended learning experience
Impact on instructional design in the late 70s- It focuses on the internal process of the mind and their impact on learning
Vygotsky's theory of social cognitve development
Cognitive theory on multimedia learning and design.
Mayer and Moreno's (1996) cognitive theory on multimedia learning and design. It is based on three key cognitive processes-selecting, organising and integrating
It focuses on the process and needs of the learner
It refers to the practice to maximise the effectiveness of the learning experience
Daniel Churchill (2007)
Metaphor for a spectrum of emerging novel internet applications
Paradigm shift on the understanding on how the internet works. Constructivist approach, focused on the learner and collaboration
Application, uses and examples
Educational and work impact-Reflection
Wiley's Preliminary Taxonomy of Learning Objects
Dick and Carey's (2005) model as one of the most widely used
Analysis
Design
Development
Implementation
Evaluation
My focus on the creation of this mindmap is to establish a relationship between theory and practice on instructional design. Therefore, and in order to avoid repetition, the process gone through when approaching the group work had not been included in the individual assignment, only outlined.
Recent study on the potential and development of mobile devices
Devices other than phone
Wide range of applications
Limitations due to their size solved by the use of tablets
Affordances