Mobile Payment
by Xiaoqing HAN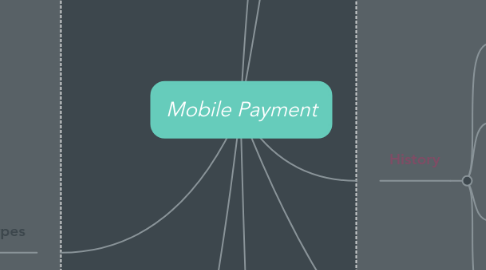 1. Disadvantages
1.1. Compromising the privacy
1.2. Eroding the bank information
2. History
2.1. Origin
2.1.1. 1997:Coca Cola introduced a limited number of vending machines where the customer could make a mobile purchase.
2.2. Emergence
2.2.1. 1998: PayPal is founded. 1999: Thanks to Ericsson and Telnor Mobil, mobile phones could be used to purchase movie tickets. 2003: 95 million cell phone users worldwide made a purchase via their mobile device.
2.3. Development
2.3.1. 2007: Both the iPhone and the Droid operating system are released. 2008: Bitcoin is invented. 2011: Google Wallet is released. 2014: Apple Pay is launched, followed a year later by Android and Samsung Pay.
2.4. Future
2.4.1. 2020: 90 percent of smartphone users will have made a mobile payment. It's estimated that by 2017, there will be $60 billion in mobile payment sales.
3. Defination
3.1. Mobile payment (also referred to as mobile wallet) generally refer to payment services operated under financial regulation and performed from or via a mobile device.
4. Main service provider
4.1. Apple pay
4.2. Android pay
4.3. Wechat pay
4.4. Alipay
4.5. Google Wallet
4.6. Paypal
5. Types
5.1. SMS
5.1.1. The consumer sends a payment request via an SMS text message or an USSD to a short code and a premium charge is applied to their phone bill or their online wallet. The merchant involved is informed of the payment success and can then release the paid for goods
5.2. WAP
5.2.1. The consumer uses web pages displayed or additional applications downloaded and installed on the mobile phone to make a payment.The mobile account can be directly charged through a mobile network operator,but the use of a credit/debit card or pre-registration should be operated in a desktop environment.
5.3. NFC
5.3.1. The consumer using a special mobile phone equipped with a smart card waves his/her phone near a reader module. Most transactions do not require authentication, but some require authentication using PIN, before transaction is completed. The payment could be deducted from a pre-paid account or charged to a mobile or bank account directly.
5.4. QR Code
5.4.1. The consumer presents the QR Code on the mobile device to be scanned by a POS or another mobile device of the payee, or the consumer scan the QR Code presented by the payee and makes the payment.
6. Advantages
6.1. Safer
6.1.1. The use of substitute card number combined with one-time code
6.2. Faster
6.2.1. Save time of printing a receipt and signature
6.3. Easier
6.3.1. Less operation steps
6.4. Greener
6.4.1. Reduce the practical notes needed and damaged
7. Compare with
8. Principle
8.1. Authorization
8.2. Clearing