CZECH START-UPS WORLD
by Andrea H.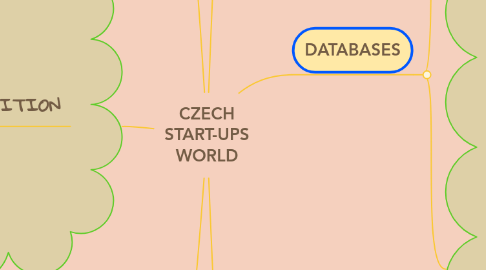 1. start-ups
1.1. Start-ups - list wiht locations - CzechStartups.org
1.2. List of CZ start-ups - ANGEL Co. Czech Republic Startups
1.3. Private companies and clubs for investors or start-ups
1.3.1. Startup Weekend - Learn, Network, Startup
1.3.2. BUSYMAN - Hledám investora | Start up, projekty, investice
1.4. StartupMap.cz | Mapa startupů v ČR
2. RANKING OF THE TOP PROJECT 2017 Czech Republic Top Startups
2.1. http://www.startupranking.com/top/czech-republic
2.2. TOP 5
2.2.1. Socialbakers - Social Media Marketing, Analytics & Performance | Startup Ranking
2.2.2. Apiary.io - API Tool That Rocks | Startup Ranking
2.2.3. Kiwi.com | Startup Ranking
2.2.4. Survio - A tool for online surveys | Startup Ranking
2.2.5. Smartlook - Look at your website through your customer's eyes | Startup Ranking
3. Themes
3.1. Online security and network monitoring
3.2. Predictive AI and web data mining and scraping tools.
3.3. Specific needs some surprisingly basic and obvious
3.4. General eCommerce support services (web development, customer behavior analysis and recommendations)
4. DATABASES
4.1. investors
4.1.1. crowdfunding
4.1.1.1. Fundlift
4.1.1.2. Vypusťte to do světa | Startovač
4.1.1.3. Hithit - Úvodní stránka
4.1.1.4. Nastartuj svůj projekt! — Nakopni.Mě
4.1.2. Petr Borkovec: anděl start-upů
4.1.3. special private companies
4.1.3.1. Busyman Club | BUSYMAN - Hledám investora | Start up, projekty, investice
4.1.4. Investors - CzechStartups.org
4.2. start-ups centres, incubators and co-working centres
4.2.1. support programs for start-ups
4.2.1.1. program: CZECH ICT INCUBATOR
4.2.1.1.1. Czech ICT Incubator | czechict.cz
4.2.1.2. Support for Start-ups - CZECH DEMO -
4.2.1.3. Czech starter - support form for start-up CzechStarter
4.2.1.3.1. Program CzechStarter nabídne 13,1 milionu, podpoří 25 startupů
4.2.2. Database of Infrastructure = all incubators, start-ups and co-work centers - CzechStartups.org
4.2.2.1. some interesting incubators
4.2.2.1.1. Prague Startup Centre
4.2.2.1.2. Prague IoT Centre: IoT & SmartCity inkubátor
4.2.2.1.3. BIC Plzeň - Podnikatelské a inovační centrum Plzeň
4.2.2.1.4. CVUT Prague InovaJET
4.2.2.1.5. The science and technology park VIENNA POINT Brno
4.2.2.1.6. The science and technology park OSTRAVA Moravskoslezské inovační centrum
4.2.2.1.7. Technical incubator VUT Brno
4.2.2.2. Companies helping with start-ups
4.2.2.2.1. AIR VENTURES - Air Ventures - We help innovations fly high
4.2.2.2.2. UP 21
4.2.2.2.3. Trigema a.s.
4.2.2.2.4. DEPO 2015 Plzeň
4.2.2.2.5. DEPOVENTURES
5. COMPETITION
5.1. STARTUP WORLD CUP & SUMMIT 17/10/2017 Prague
5.1.1. TOP 10 + TOP 50 + TOP 8 Biotech + TOP 4 Student start-ups on SUMMIT
5.1.1.1. https://www.swcsummit.com/top-10-top-50
5.1.2. Startup World Cup & Summit
5.2. SEEDSTARS PRAGUE 8/6/2017 Seedstars World
5.2.1. winners
5.2.1.1. Collect customer feedback using Net Promoter System - SatisMeter
5.2.1.2. Kapacity - Booking and Distribution Solution for Travel Industry
5.2.1.3. Accent Artisan - Speak like a native
5.3. Czech start-up Oscar Tech celebrates success at CES 2017 | CzechInvest
5.3.1. Oscar Technology | Award-Winning Recruitment Specialists
6. TOP-Czech startups
6.1. EU-Startups | Spotlight on European startups - especially in HIGH-TECH 2016 + 2017
6.1.1. 5 Czech startups to look out for in 2016 | EU-Startups
6.1.1.1. TeskaLabs - Security + Operations + Analytics
6.1.1.1.1. TeskaLabs helps enterprises to build and operate Mobile and IoT Application safely. TeskaLabs was founded in 2014 by Ales Teska and Vladimira Teskova, highly experienced in enterprise mobility and network operations, who started the firm in response to their experiences with the internal security practices of large enterprises, particularly the challenges of staying up to date with a rapidly changing security environment. TeskaLabs provides an always up-to-date, plug and play security layer which can scale to even the largest of operations, operating on thousands of devices within a single company. TeskaLabs joined TechStars London in 2015 and raised €337K in "pre-seed" funding from investors like StartupYard business incubator, TechStars London, and Czech VC firm Credo Ventures.
6.1.1.2. VersionPress
6.1.1.2.1. VersionPress is a Prague-based startup that offers version control for WordPress. The company essentially wants to create an "undo" button for changes you make to a WordPress site. It uses software built on top of Git – the popular open source version control system. VersionPress was founded in 2013 and secured $400,000 in funding through a seed round with five investors led by the Czech VC firm Credo Ventures.
6.1.1.3. Predictable.ly | Know before it happens.
6.1.1.3.1. Predictable.ly is a USA/Czech based predictive analytics platform for news publishers and was founded in 2014. Its mission is to tell journalists what's going to be hot before it is. Predictable.ly has a team of domain experts who partnered with top publishers to develop a data science team in a box to make predictions for publishers. The eam also includes experts on data science, artificial intelligence, machine learning, predictive analytics.
6.1.1.4. Mitteo.com
6.1.1.4.1. Mitteo created the first smart target in the field of sports shooting. The Prague-based startup offers one compact box connected directly to your tablet, smartphone or laptop. It took Olympic games shooter Radim Novak and his team almost two years to develop and test the Smart Target product. This clever invention can electronically capture each shot with maximum accuracy. And all the results are transferred to a simple and user-friendly app.
6.1.1.5. Comprimato
6.1.1.5.1. Comprimato is a JPEG2000 compression software based on standard graphics processing units that deliver compression up to 10x faster than existing software at a fraction of the price. Comprimato delivers unique compression solution to the digital cinema market and secured numerous major clients including Digimetrics or Stanford University. It is in negotiation with major global players in various fields including military and health applications. In September 2014 Comprimato raised €1 million from existing investors Credo Ventures and Y Soft Venture Capital.
6.1.2. 7 Czech startups to look out for in 2017 | EU-Startups
6.1.2.1. GREYCORTEX Intelligent Network Traffic Analysis | GreyCortex
6.1.2.1.1. GreyCortex is a Brno-based startup which uses advanced methods of artificial intelligence, machine learning and data mining to help organizations make their IT operations more secure and reliable. The promising Czech startup was named the best early stage startup at recent CESAwards. GreyCortex was founded in 2016 and raised $1.3 million in its first round of funding from Y Soft Ventures last year.
6.1.2.2. NEURON SONDWARE Neuron soundware – We recognize broken machines using sound
6.1.2.2.1. Neuron Soundware can recognize broken machines using sound. Founded in 2016, Neuron Soundware uses artificial intelligence methods to gain understanding of audio signals. Neuron Soundware's mission is bring machine learning and neural networks to sound and voice analysis- creating interfaces between machines and people, and between machines and mechanical devices, that are highly intelligent and adaptable to many applications.
6.1.2.3. LOCAID.ME
6.1.2.3.1. Born at IBM where the founding team failed to get enough support to grow, Locaid.me is an IoT startup offering indoor location-based solutions focused on occupational health and safety. Integrated indoor emergency preparedness & response safety system consisting of Smart Stickers mesh network detecting and mapping danger in real time (e.g. fire, shooting, gas leakage) and a mobile app notifying and safely navigating people inside step-by-step (e.g. to the nearest exit, fire extinguisher) and sharing indoor position to rescue services in case of lockdown.
6.1.2.4. TRENDLUCID TrendLucid
6.1.2.4.1. TrendLucid is an evaluation engine for eCommerce sites. It shows which products people buy on competitors sites. TrendLucid aggregates current consumer and market data, including reviews, user visits and pricing, and provides eShops with sales projections for different products in any particular category. The Prague based-startup shows market trends and popular products in an easy to use visual datamap. TrendLucid was founded n 2015.
6.1.2.5. APIFIER Apify - The web scraping and automation platform
6.1.2.5.1. Apifier, a Y-combinator alumni, is a cloud service that enables extraction of structured data from any website. Or in plain words, it's a robot that helps eshop owners to get a daily Excel sheet with a list of prices of their competition, enables startups to create aggregators of stuff like real estate offers, used cars or new shoes, and helps marketers to extract emails and Facebook links from any website. Although the service is primarily for developers, Apifier also offers consulting services to help non-techie clients. Apifier was founded in 2015 and plans to expand capabilities of its robot and scale the consulting service to a worldwide marketplace.
6.1.2.6. ZEERAT Zeerat - Visitor recordings and heatmaps with virtual assistant
6.1.2.6.1. Zeerat is a customer experience analytics company focusing on in-page web analytics and conversion rate optimization. Zeerat helps people to understand visitors' behaviour on websites, reveals bugs and errors of a website conversion strategy such as uncompleted goals (form and cart abandonment) or navigation and design problems. "With Zeerat you can record and watch customers on your site like on a camera, save your energy and time thanks to virtual assistant, who's scanning the data and spots the problems for you," says the firm's founder Michal Repetny.
6.1.2.7. RECOMBEE Recombee: Recommendation as a Service, REST API + SDK
6.1.2.7.1. Recombee develops recommender system as a service. The recommendations are provided via an intuitive RESTful API. Their product is one of the few that can be used in many domains thanks to sophisticated query language. Recombee is recommending positions a few Czech sites – for jobs.cz and prace.cz visitors, personalizing news at centrum.cz, recommending cultural events for goout.cz, movies for showmax or products in multiple e-shops. They employ an artificial intelligence to optimize ensembles of recommendation algorithms for every scenario in real-time. The service is affordable even for smaller companies such as e-shops.
7. OTHER
7.1. SOME INTERESTING MEDIA with articles FOR READING
7.1.1. investably.co - Stories, interviews with investors and startup founders, guest posts, data-driven posts
7.1.2. German-Czech Chamber of Industry and Commerce: The startup can take a fresh look at things. | CreativeDock
7.1.3. Startupy | CzechCrunch – nejčtenější magazín o startupech a technologiích
7.1.4. Some statistics about start-up people in CZ 2016 Vše, co (ne)chcete vědět: 20 grafů o českém startupovém prostředí
7.1.5. Startupy – Tyinternety.cz
7.2. Fintech startup as competition with large financial institutions
7.2.1. List of Fintech Startups in Czech Republic
7.2.2. fintech konference Prague 1/11/2017 CNB
7.2.2.1. Konference - FINTECH 2017
7.2.3. Fintech's companies are changing the world. With modern technologies, internet coverage, and social networks, they are more affordable and simplier, and so unimaginable possibilities are emerging in the world of money. Fintech companies can compete or co-operate with large financial institutions in some areas.
7.3. WEB SUMMIT November 6-9, 2017 Lisbon Portugal - The largest tech conference in the world WEB SUMMIT | LISBON 2017 | WHERE THE TECH WORLD MEETS