Top 100+ Back to School Apps for High School and College Students
by
Toni Krasnic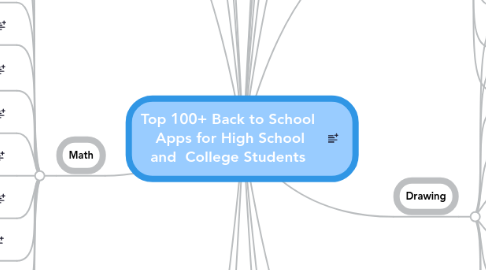 5.0
stars -
53
reviews range from
0
to
5
Top 100+ Back to School Apps for High School and College Students
As of July, 2011, there were over 425,000 iOS apps in the iTunes App Store. Here is a back to school compilation of popular apps for high school and college students. All apps are free unless there"s a price listed. Many of these are also available for Android and other platforms. I hope these apps make your school life more fun, easier, and productive. What apps did I miss? What apps would you recommend for students and teachers?
Textbooks
eTextbooks
The eTextbooks app from CourseSmart gives students access to 90 percent of common college textbooks.
Kno
College textbooks.
Inkling
College textbooks.
Amazon Student
Students can perform instant price checks on textbooks and other items, keep lists of items they want to buy, and post used textbooks, games, movies, or gadgets for trade-in.
Books
Kindle
iBooks
Nook
Kobo
Stanza
Free Books
News
Flipboard
Fast, beautiful way to flip through the news, photos, videos, and updates your friends are sharing on Facebook, Twitter, Google Reader, Flickr, and Instagram
Pulse News
All your content in one place: Easy to add any content you want - from major publishers to blogs to social networks.
Zite
Personalized magazine for your iPad that automatically learns what you like and gets smarter as you use it.
The Daily
More than 100 pages of original news, entertainment, lifestyle, opinions, breaking news updates, customized sports pages, videos, interactive graphics, and great photography. Subscription costs $1/week.
AP News
Breaking news
Also look for apps from your favorite newspapers and journals
Reading
PDF-Notes
GoodReader ($5)
iAnnotate PDF ($10)
Instapaper ($5)
Lets you save articles, blogs and news for offline reading.
QR Reader
Read QR Codes.
Marvel Comics
Full of color and great reading experience.
Reeder ($5)
Organize and read RSS feeds.
Notes
Noteshelf ($5)
Notes Plus ($4)
Ghostwriter Notes ($5)
QuckVoice Recorder
Voice recorder.
AudioMemos ($1)
Writing
Elements ($5)
Simple text editor that syncs to Dropbox.
Penultimate ($2)
Handwriting app that feels like writing on paper, with digital power and flexibility.
Note Taker ($2)
Great note-taking tool.
Pages ($10)
Create, edit, and view documents.
Pen and Paper ($2)
Modern version of a notebook.
Upad ($5)
Handwriting app.
Notes Plus ($5)
Handwriting app.
Pencil Pusher ($1)
Draw, sketch, and write notes.
Drawing
Doodle Buddy
Great for kids.
Animation ($3)
Create hand-drawn animations.
Inspire ($5)
Draw and paint.
Brushes ($5)
Draw and paint.
LiveSketch ($2)
Impressive sketching.
SketchBook Mobile ($2)
Draw and paint.
Adobe Eazel ($3)
Works as a standalone paint application and also connects to Photoshop, sending images that get automagically scaled to whatever resolution you want.
Adobe Photoshop Express
Easily crop and rotate photos, create effects and borders, manipulate color, apply filters, etc.
Mind Mapping & Visual
iThoughts ($8)
My favorite. Mind-mapping tool that uses colorful graphics to lets users brainstorm, set goals, take meeting notes, and more. Even better, you're not locked within its ecosystem; there are plenty of import and export options that make the app compatible with other mind-mapping software and other formats (pdf, png, etc.)
Mindjet ($7)
MindNode ($6)
iBrainstorm
Drawing app.
Popplet ($5)
Capture ideas, sort them visually, and collaborate with others.
Adobe Ideas ($6)
Digital sketchbook.
Also see notes, writing, and drawing categories
Classroom
Blackboard
Works with you school"s Blackboard account.
iStudiez Pro ($3)
Never miss another course, lecture and lab, track tasks and deadlines, plan homework, and arrange assignments.
Teacher Tool One
TeacherTool is a teacher's gradebook, calendar, notebook and course register in your pocket, always available, always complete, always up to date.
Myhomework
This app makes it simple to organize and keep track of your class schedule and upcoming assignments, color-coding them automatically according to their due date.
Grades 2
Use it to find your course grade or to determine what you need on your final to get the grade you want
iHomework ($2)
Keeps you up to date on all of your schoolwork, your grades, your teacher"s information, where your classes are and more.
inClass
Note, video notes, audio notes, photo notes. Also keeps track of tasks.
Rate My Professors
Find out more about your professors and rate them.
gFlashPro ($5)
Flash-card application allows you to use Google Spreadsheet or Microsoft Excel to create decks of cards, which are able to include sound clips or YouTube video.
Cram ($4)
Turn your study material into multiple- choice practice tests and digital flash cards.
Essay Grader ($6)
Essay grader comes with a bank of pre- written comments and helps teachers cut down on grading time without writing the same comments over and over again by hand.
eClicker
eClicker charts the class responses, showing which areas are understood and which need more work. eClicker host is $10.
Productivity
Dropbox
Cloud storage for photos, docs, and videos. Up to 2GB is free.
Evernote
Lets you type and synchronize notes, photos and voice memos from your device to the Web.
Simplenote
Minimalist way of keeping notes, lists, ideas. They also sync.
Apple's Calendar
Apple"s plain calendar.
Wunderlist
Calendar and task organizer. Syncs your tasks with your account, across all devices.
Pocket Informant ($5)
Manage tasks, sync calendars and organize … everything.
ReQall
Save your ideas, to-do lists and things to remember by voice or text. Or use email, IM, and more.
ScatterBrain
Thought reminders.
Dragon Go!
Say what you want and Dragon Go! will deliver your results.
Bento ($5)
Personal organizer that helps you manage everything from contacts, events and to-do items to special activities such as exercise regimens and diet plans. Comes with 25 templates.
Documents to Go ($10)
View, edit, and create Word & Excel files (including Office 2007/2008/2010). View PowerPoint ,PDF, iWork & other files.
QuickOffice ($15)
Create, Edit, Access & Share Microsoft Office files.
iWork: Pages, Keynote, Numbers
Apple"s productivity apps. They consist of Pages ($10) for word processing, Keynote ($10) for presentations and Numbers ($10) for spreadsheets.
Air Display ($10)
Turns your iPad into a wireless second LCD monitor for your Mac or PC.
English
Merriam-Webster Dictionary
Definition ($1)
Offline Dictionary
Dictionary.com ($3)
Dictionary and thesaurus for over 40,000 terms.
Grammar Guide
Quick reference guide with general rules, helpful hints and reference for using grammar in your day-to-day writing
WordBook English Dictionary
Dictionary and thesaurus. Also has pronunciation and word origin information.
Dragon Dictation
Speak and instantly see your text or email messages.
15,000 Useful Phrases ($1)
Helps you select the perfect phrase for any occasion.
iTranslate
Universal translator.
Translator with Voice ($3)
Translations in 34 different languages with voice support on most of them.
Spell Check ($1)
Spell checker and dictionary.
Shakespeare
Complete works of Shakespeare — 41 plays, 154 sonnets and six poems — all fully searchable for the words of your choice. There"s also a glossary of Shakespearean terms and a section devoted to notable quotes.
Science
Science360
Easy access to engaging science and engineering images and video from around the globe and a news feed featuring breaking news from NSF-funded institutions.
Molecules
App for viewing three-dimensional renderings of molecules and manipulating them using your fingers.
Chemical Touch ($1)
Explore the properties of the elements, the standard amino acids, and the nucleobases
Physics for iPad ($2)
Interactive tutorials and quizzes
Star Walk ($5)
Map of stars. You"ll learn the identities of the stars, constellations and satellites.
SkyView ($2)
Stargazing app.
FINR Brain Atlas
Anatomy of a brain in a 3D model.
iMuscle
3D animated exercises.
Frog Dissection ($4)
Besides virtually dissecting a frog using the proper tools, you can learn about different types of frogs and their life cycles.
Rat Dissection ($2)
Offers students all of the tools that come with a real dissection without all the mess and smell.
VideoScience
Simple science experiments.
Science Facts
Thousands of science related facts from eight categories (Physics, Chemistry, Astronomy, Biology, Inventions, Geography, Bugs, Miscellaneous)
Periodic Table of the Elements
Periodic table with lots of information on the elements.
iElements
Periodic table with lots of information on the elements.
Periodic Table of Videos
Videos on elements.
iMolecular Draw ($3)
App that can view, edit and build molecules in 2D.
Science Glossary
Glossary of scientific terms and short biographies.
Math
iFormulas
Mathematical formula reference guide
Photo calculator with step-by-step problem solving.
Solves math questions by taking a picture of a question. It also has a graphing calculator along with many other features.
TouchCalc
Calculator program and offers several different modes
Jumbo Calculator
All the basics.
PI83 Graphing Calculator ($1)
Most popular graphing calculator.
Graphing Calculator ($2)
Function plotter and scientific calculator.
Symbolic Calculator ($2)
Full-featured algebra capabilities with high- end scientific calculators.
Wolfram Alpha ($2)
Math whiz app.
Math Ref ($1)
Math reference application that includes over 1,400 helpful formulas, figures, tips and examples of the equations, and concepts.
Mathemagics ($2)
Learn and practice the tricks of mental math.
Calcbot ($2)
Simple and well designed calculator.
Convert Units
Simple unit conversion utility
Slide Rule ($1)
Slide rule simulator.
Protractor ($1)
Works with the camera in your iPhone/iPad.
History & Geography
Google Earth
Explore the far corners of the world.
World Atlas HD ($2)
Beautiful interactive world atlas designed by National Geographic.
On this day
Lists notable events in history as well as important figures who were born or died on a specific date
2011 World Factbook ($1)
CIA World Factbook.
Smithsonian Channel
Museums, series, documentaries, fun facts.
Wikihood Plus ($5)
Organizes information from Wikipedia to make it relevant to your current place.
Learning & Reference
Wikipanion
Search and read wikipedia.
Wikibot ($1)
Search and read wikipedia.
TED
Educational and inspirational videos.
PBS
Many edu videos.
HowStuffWorks
Access to over 30,000 articles, podcasts, and videos.
Articles ($1)
Wikipedia reader.
Wisdom Quotes ($2)
3200 inspiring quotes.
Formul8 ($2)
Includes the most used formulas for Algebra, Geometry, Calculus, Science, and Chemistry. Add formulas from your library or camera roll, or sketch and drag symbols to create your own formula.
Social Networking
Twitter
Hootsuite
Create numerous social network streams and view them in a clean, friendly interface.
Friendly Plus for Facebook ($1)
Facebook still hasn"t released an official iPad app but Friendly app is a good substitute for Facebook Web.
Skype
Edmodo
Facebook-like, easy way for teachers and students to stay connected and share information.
LinkedIn
Beejive IM ($10)
Support for all IM platforms.
TextNow
Send free, unlimited texts, and embedded photos.
StumbleUpon
Stumble your way through the Web.
Additional Resources