MEDIA LITERACY IN THE MODERN NYC K-12 SCHOOL
by The Media Spot, LLC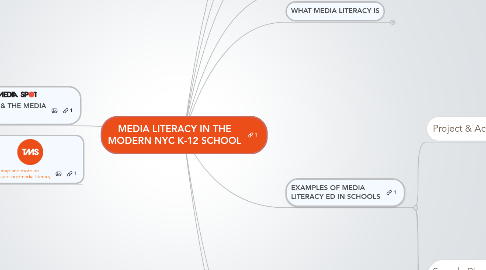 1. THE EFFECT OF ALL OF THIS CHANGE ON EDUCATORS.
1.1. FUTURE SHOCK: Too much change too quickly = Educator Fatigue!
1.2. Digital revolution late '90s-present: non-stop change and adaptation to new tools and modes of communication and socialization without a map.
1.3. Varied ed tech recommendations and tools with no prevailing road map.
1.4. New educational Paradigms, Standards, and Systems for Evaluation to adapt to.
2. HOW THE WORLD IS CHANGING FOR STUDENTS.
2.1. Citizenship
2.2. Identity & Relationships
2.3. Workplace
3. HOW NYC SCHOOLS ARE ADJUSTING (2001-2014).
3.1. Range of tech infrastructure & access in schools
3.1.1. ~1-6 Classroom desktops
3.1.2. Roving or classroom laptop and/or iPad carts
3.1.3. Projectors, Interactive White Boards & Document Cameras
3.1.4. Varied support personnel (most often understaffed)
3.1.4.1. CUNY Interns
3.1.4.2. If school is large enough and make it a priority, a few have in-house tech support positions
3.1.5. Wide range of student access at home; "BYOD" mobile resources not allowed
3.1.6. School websites
3.1.6.1. Public "Brochure" Website
3.1.6.2. Classroom blogs home-school connection & interactionfor Newsletters, Student work, and Posting Units & Lessons
3.1.6.3. Staff Websites and Professional Learning Networks (PLN)
3.1.6.3.1. shared resources
3.1.6.3.2. collaborative documents
3.1.6.3.3. connecting cloud services
3.1.6.4. LMS - Learning Management Systems for report cards, assessment, etc.
3.1.7. Technology Clusters aligned with Classroom curricula
3.1.8. Labs with open access & collaborative overlapping units of study
3.1.9. Range of Professional Development
3.1.9.1. NOT a standard part of pre-service teacher education
3.1.9.2. through offsite or online resources & PD workshops
3.1.9.3. through embedded 3rd party consultants (i.e. THE MEDIA SPOT )
3.1.9.4. teacher directed in-house experimentation and sharing
3.1.9.5. best if differentiated, customized, and within a community of support (in school or online)
3.2. Wide range of teacher training & comfort
3.3. Typically: More money spent on equipment than personnel needed to adapt curriculum and infrastructure
4. HOW K-12 LANDSCAPE & DIGITAL CULTURE ARE ADAPTING TO MEET THE CHANGE.
4.1. Paradigm Shift In Education
4.1.1. Higher order thinking, questioning, evidence-based arguments
4.1.2. Inquiry-based, student-centered learning
4.1.3. Rethinking the classroom (group work, less lecturing)
4.1.4. Performance-based tasks & assessments
4.1.5. Differentiation, multiculturalism, and Universal Designs for Learning
4.1.6. Data driven instruction
4.1.7. Danielson Framework for Teacher Evaluation
4.1.8. READ MORE: NYCDOE Citywide Instructional Expectations
4.1.8.1. teacher becomes guide on the side
4.1.8.2. Multicultural or Universal Designs for Learning
4.1.8.3. Differentiation for different style learners
4.1.8.4. Data driven instruction
4.1.8.5. Evidenced-based formal teacher observations (Danielson)
4.1.8.6. Common Core "performance-based tasks"
4.2. CCSS
4.2.1. Broad unified national benchmarks to build curriculum on
4.2.2. college and career readiness
4.2.3. higher order thinking
4.2.4. explanation, text complexity, evidence-based arguments, etc.
4.2.5. MORE: 3min Video explaining the basics
5. WHAT MEDIA LITERACY IS
5.1. Digital & Media Literacy Education Principles and Competencies
5.1.1. "(Digital and media literacy is) a constellation of life skills that are necessary for full participation in our media-saturated, information-rich society." - Digital and Media Literacy Plan of Action, Renee Hobbs
5.1.2. Media literacy provides a framework to access, analyze & evaluate and create messages in a variety of forms — from digital text to web-based multimedia. It builds an understanding of the role of media in society as well as essential skills of inquiry and creative self-expression necessary for citizens of a 21st century democracy to reflect on the role of media in their lives and take action in their media environment.
5.1.3. READ MORE: Essential Competencies of Media Literacy (expanding meaning of literacy for the modern citizen)
5.1.4. READ MORE: Core Principles of Media Literacy Education (how to teach with and about media)
5.1.5. EXPLORE: Other "Ed Tech" Movements
5.1.5.1. National Tech Plan
5.1.5.1.1. ...leverage technology to create "personalized learning experiences for all learners that mirror students' daily lives and the reality of their futures."
5.1.5.2. National Educational Tech Standards (NETS)
5.1.5.2.1. Tech skills & concepts
5.1.5.2.2. Critical thinking focused on research skills and tool choices
5.1.5.3. Partnership for 21st Century Ed "Route 21"
5.1.5.3.1. Nice visual of how all the parts fit
5.2. Digital Skill Development
5.2.1. Operational Skills (i.e. necessary to access info and create media - typing, searching, navigating, etc.)
5.2.2. Ability to leverage tools & access to people and info
5.2.3. READ MORE: Connected Learning
5.3. Media Literacy - an extension of traditional literacy
5.3.1. Critical thinking skills to become a thoughtful consumer and producer of media
5.3.2. "reading" and "writing" with new forms of media
5.3.3. inclusion of new forms of media as texts "media texts"
5.3.4. Unique core or bias of "media literacy" compared to other related movements: critical analysis of media (who's on the other side, what are they saying, what is their agenda, and who am I/what do I think in relation to it.)
5.3.5. READ MORE: NAMLE's Key Questions to Ask When Analyzing Media Messages
5.4. Digital Citizenship
5.4.1. behavior (cyberbullying)
5.4.2. safety & privacy
5.4.3. media use policies
5.4.4. identitiy
5.4.5. consumer habits & advertising
5.4.6. READ MORE: Common Sense Media's scope & sequence for digital literacy
6. WHO ARE RHYS & THE MEDIA SPOT?
6.1. K-12 Embedded Professional Development (PD) in NYC since 2001
6.1.1. Aligning new media, new tools of communication with K-12 curricula (8-12 schools per year)
6.1.2. Admins: molding the vision, advising on resources, planning PD.
6.1.3. Teachers: unit planning, scaffolding.
6.1.4. Students: modeling in the classroom, and collaborating on productions.
6.2. Working with Teacher Education Programs and Media Literacy Scholars in Higher Education
6.2.1. Facilitator at Summer Institute in Digital Literacy and University of Rhode Island
6.2.2. Teaching courses at Columbia Teachers College
6.2.3. Working on educational media outreach at the Salzburg Academy for Media and Global Change
6.2.4. Working with RealWorldMatters and NASA GISS on media productions for teaching about climate change
6.3. Background: A media maker drawn to media literacy through a mindful production & consumption Process
6.3.1. Digital Filmmaker
6.3.2. Found value in the production PROCESS working with kids, regardless of PRODUCTS.
6.3.3. Interested in media influence and the importance of active consumption & production of media by citizens of a democracy.
6.4. Established themediaspot.org in 2006
6.4.1. To share student production process
6.4.2. Facilitate collaborations with educational community
6.4.3. To model and create a connected hub for media literacy education
6.5. Board member of the National Association for Media Literacy Education since 2009 (NAMLE.net)
6.6. Concept of ML and first school-based media literacy project in 1999 is still relevant as the landscape continues to change...
6.6.1. Core Principles: Access to technology has exploded since, but core principles around needs remain same today.
6.6.2. Info literacy: Made meaning out of multiple sources (early internet sites, old school texts & picture books)
6.6.3. Engagement through differentiated small group productions: critical analysis of texts, power of POV and editing to create a voice for real audiences.
7. EXAMPLES OF MEDIA LITERACY ED IN SCHOOLS
7.1. Project & Activity Examples
7.1.1. 5th Grade Community Wellness Project
7.1.1.1. Differentiated small group work
7.1.1.2. Google Forms Survey
7.1.1.3. Jing Screencast
7.1.1.4. Individual Google Docs Presentations
7.1.1.5. Custom Google Map
7.1.2. Public Service Announcements
7.1.3. Students as Tutorial Designers
7.1.4. Tech Turnoff
7.1.4.1. Potential Readings: 1984, Brave New World, Fahrenheit 451, Amusing Ourselves to Death
7.1.4.2. Fahrenheit 451 - Create your own distopian newspaper
7.1.4.3. Reflecting on the role of technology in schools & personal lives.
7.1.4.4. Considering the role of technology in society.
7.1.5. Theme-based activity: Digital Accountable Talk
7.1.6. SEE MORE PROJECT EXAMPLES ON THEMEDIASPOT.ORG
7.1.7. SEE FAVORITE APPS & TOOLS ON THEMEDIASPOT.ORG
7.2. Sample Planning Resources
7.2.1. Media Literacy Planning Framework
7.2.2. Vertically aligned K-8 scope and sequence (template)
7.2.3. Middle School "Choose your own Adventure" annotated unit plan and reflection
7.3. Common Challenges
8. INQUIRY QUESTIONS or DISCUSSION STARTERS
8.1. Where should media literacy fit in your curriculum... right now, and 5 years from now?
8.2. What's your Pedagogical Bias? Is Media Literacy critical to your practice?
8.2.1. Theme: Teachers have a lot on their plates. This is not mandated. Why learn something new if you're not forced to?
8.2.2. What drives you or your school? What are your core principles?
8.2.3. ACTIVITY and share out: Why media literacy?
8.2.4. ACTIVITY: Analyze messages from today's landscape
8.2.4.1. Watch 3 political ads
8.2.4.1.1. Romney
8.2.4.1.2. Santourum
8.2.4.1.3. Obama
8.2.4.2. Poll the audience
8.2.4.3. Reality Check
8.2.4.3.1. Candidates and PACs are betting $10 Billion they will be able to persuade you.
8.2.4.4. Discussion/Deconstruction: Key Discussion Questions
8.2.4.4.1. What tools are used?
8.2.4.4.2. What's the tone? What emotions are they appealing to?
8.2.4.4.3. Who's paying for these? Who's making the decisions on content?
8.2.4.4.4. What's left out?
8.2.4.4.5. What's your process for "reading" a message like this?
8.2.4.4.6. Where's the bias? Where is "the truth"?
8.2.4.4.7. How confident are you that you can hold on to your opinions & values, faced with the non-stop influence of 10 billion dollars of meaning-making machine?
8.2.4.5. Share out: How do you inform yourself? And where did you learn how to navigate today's media?
8.2.4.5.1. TOOL! http://www.wallwisher.com/wall/mediaskill
8.2.4.6. Take away: the establishment of an informed citizenry (through public education) is essential to democracy (sic Jefferson)
8.2.5. ACTIVITY: Digital Media Horoscope -- What's your Motivation?
8.3. How could media literacy concepts and digital productions enhance an existing objective or pedagogical bias in your classroom/school?
8.3.1. ACTIVITY: How Does Media Literacy Ed serve your Pedagogical Bias?
8.4. What support and training would you need to make this work in your classroom or school?
8.5. Where should training for teachers in digital and media literacy take place? Where for teacher ed? Where for in-service teachers?
8.6. How do you think schools should transform to reflect changes in the media landscape? What are essential practices and content from traditional curricula that fit best with media literacy concepts? What needs to be accounted for in the digital age? Where is the balance?
9. SUGGESTED TMS ANTIDOTE: SIMPLIFY.
9.1. RECOMMENDATION: Simplify your incorporation of new standards and technology to serve to your "pedagogical bias".
9.1.1. ID your schools's pedagogical bias (philosophical approach to curriculum development and instructional practice.)
9.1.2. ID and internalize within your school culture broadly applicable digital skills and "media literacy" concepts necessary for 21st century citizenship, identity, and the workforce.
9.1.3. Build curricula informed by the above that expands and enhances the CCSS, open to continuing cultural and technical shifts that serves your educational mission (bias).
9.2. The Media Spot's Process is to enable collaborative digital production in the classroom to blend Common Core Standards, schoolwide goals, media literacy concepts and digital skills.
9.2.1. Inquiry-driven Project-based Learning
9.2.2. Activate core curriculum through digital media production, critical media analysis and real-world interaction.
9.2.3. Establish adaptive digital skills early (in a cluster if possible)
9.2.4. Content area teachers leverage student digital skills
9.2.5. Facilitate critical media analysis (reading) by deconstructing model productions and authorial intent
9.2.6. Digital tools, info and technology should be thoughtfully integrated with sound fundamental teaching practices.
9.2.7. Teachers should develop an understanding of how to incorporate a balance of the real world flow of communication & info that excites students with their core values as professional educators in their area of specialty.
9.2.8. READ MORE: TMS Process & Services
9.3. Media Literacy Education intersects with CCSS and new paradigms while activating new technology
9.3.1. College and Career Readiness
9.3.2. Nonfiction, Narrative Nonfiction, "Informational Texts" -- "Media texts" in various forms
9.3.3. Research & Synthesis of Information into Knowledge
9.3.4. "...be able to make informed, skillful choices among the many ways to express themselves through language"
9.3.5. "media use (both critical analysis and production of media) are integrated throughout the standards"
9.3.6. Speaking and Listening (mentions variety of media)
9.3.7. READ MORE: Media Literacy & the Common Core an Educators Guide from NAMLE
9.4. Media Literacy Education can begin at a range of needs/starting points. Our hope is that you may recognize your situation along this spectrum, and see it a little more clearly within the big picture.
10. View this map and more on themediaspot.org/media-literacy