Free Online tools for
by
Ali Mulla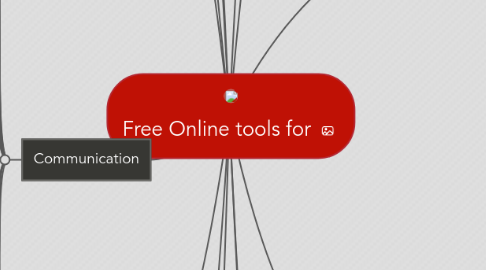 Free Online tools for
Video
Up and coming website. Like a visual Wikipedia. Information is visual and it is something that can be watched.
upload videos from your mobile phone and share with others
Upload videos, edit them, add captions and share them with others.
Buzz Feed is a website that helps you find videos that are trending on the internet through different video websites.
Download videos from YouTube, Google, Metacafe, Putfile and more
Easily create animations
Editor
Jaycut
Studio.stupeflix.com
Stroome.com
Tubechop.com
Automatoon.com/
Capture
Screencast-o-matic.com/
Screenr.com
Instructional
5min
MonkeySee
VideoJug
Brainstorming/ Mind mapping
A new mind mapping app which can also be used for discussions and sharing
Taking Notes/ Bookmarks
create and share online notes with your friends from your browser and phone
Audioboo.com
Delicious.com
Google Bookmarks
Taking notes or creating an online voice journal
Create a collaborative cork board to share notes / ideas / reminders
Collaboration
Google docs
Presentation
Document
Spreadsheet
Google Hangouts
Zoho.com
online mind mapping tool
Dabbleboard.com/draw
An online whiteboard where others can be invited to collaborate.
Documents display beautifully in your browser. No Flash or plugins required.Add comments, highlights, drawings, and other markups to documents and imagesInvite others to collaborate in real-time or embed documents on your website or blog
Free family free builder. You can invite family members to collaborate and work on a family tree together. Can also be used for projects to collaborate on building a family tree for an individual in history. Mapping the linage of the prophets is always an interesting one!
View web pages together and comment about them.
Create a collaborative cork board to share notes / ideas / reminders
A great website where students can share videos and images and have discussion about them.
Communication
Skype
Msn Messenger
Googlemail
Hotmail
Many different messaging services on one site.
Great translation tool
Send a free fax using this website
Send a video to any email address
Create a private chat room and decide who long you want it alive for. 2 hours to a year.
Create a network topic for discussion using cell phones
Social Networks
Facebook
Google+
Whatsapp
Twitter
Posterbee
Images
Searching/ Storing images
Flickr
Picasa
iconfinder.com
sxc.hu
Zoom.it
PackMule.com
Photocollect.net
Editing images
Picasa
Picnik
Sumopaint
Thumba.com
Makeathumbnail
Citrify
Fotoflexer.com
Creating
Homestyler.com/
Disapainted
Pixlr
Search Engines/ Information
search engine for social networks so you don't have to search for pages of posts to find something that was once posted
Stats about how a website ranks
Google.com
Find the name of a song online
Nerdydaytrips.com
Results from all different search engines in one result
Great search engine for finding facts and figures. Presents information in tables and can also run comparisons of searches. For instance countries. Reliable search engines.
Information
everytimezone.com
Historypin.com
MentalFloss
Historvius
Britannica
Encyclopedia.com/
Show.Mapping
National Geographic MapMaking tools
Bookmarking
Utopic
Delicious
Stumbleupon
News
Newsmaps.jp
Find apps for what you want to do for browsers, mobiles and PC.
Audio
Online sound recorder
Aviary.com/tools/myna
Namemytune.com
Find the name of a song online
Allows you to record 3 minute sound clips and attach it to a map location.
Another aviary editor. this one able to layer tracks add beats, effects and various pre loaded loops.
Maps
Easily draw on maps and then share them with friends, completely for Free! Simple enough to be used by children, but powerful enough to be used by GIS professionals - Scribble Maps is the easiest way to draw and share maps with friends.
Use a map to decide where to meet with friends/ family. works out the most middle place for everyone to meet when going out.
Allows you to record 3 minute sound clips and attach it to a map location.
With Geotrio create and share tours based on map locations that you can also upload your photos to.
Share files online. add and download files to and from dropbox using your PC, tablet or even your phone!
Online File Sharing
File storage online
Upload and share your pdf and ebooks
Easy way to drag and drop files to share
Share presentations made offline and embed in webpages
Great tool to upload documents and embed into just about any website, blog or social network
5 gigs free online storage. access files from a browser, tablet, ftp or phone
Office Software/ illustrative tools
Presentations
Prezi.com
Google Docs Presentation
280 slides
Zoho Show
Animoto.com
Projeqt.com
Knovio.com/
Google Docs Writer
Zoho.com
MakeTheNEws
Wordpress.com
Tools, Copypastecharacter.com/, Polishmywriting.com, Urban Dictionary.com, Typingweb.com/tutor, Phraseup.com, Zamzar.com, Cite this for me
DTP
Pixton Comic maker
Smorepages.com
Chogger.com
piktochart
easil.ly
Other
Fakebook
Tildee.com/
Whenintime
Issuu
Scribd
Creating Websites
Weebly
Google Sites
Wordpress
Other Tools
Great flash countdown timer
Create online word clouds and publish them
Learning
Great site for learning to program interactively.