Zoo Phonics- Letter B Butterfly, Bears, Birds
by
Elissa Palevsky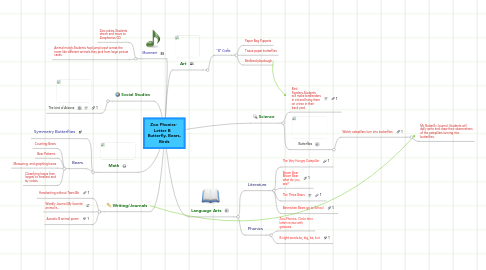 0.0
stars - reviews range from
0
to
5
Zoo Phonics- Letter B Butterfly, Bears, Birds
Movement
Zoo-robics-Students strech and move to Zoophonics CD.
Animal march-Students hop/jump/crawl across the room like different animals they pick from large picture cards.
Science
(HW-with adult help) Weekly-Observe birdfeeders, and see when birds come to eat. What types of birds came? Did they come by themselves or in groups.
Butterflies
Watch catepillars turn into butterflies, My Butterfly Journal- Students will daily write and draw their observations of the catepillars turning into butterflies.
Language Arts
Literature
The Very Hungry Catepillar
Brown Bear Brown Bear what do you see?
The Three Bears
Berenstien Bears go to School
Phonics
Zoo-Phonics- Circle time letter review with gestures.
B sight words-by, big, be, but
Math
Symmetry Butterflies
Given large white paper, students pick three or four paint colors and put a spoonful of each in the middle of the paper. Then they fold it in half. When they open it up there will be a beautiful symmetric masterbiece.
Bears
Counting Bears
Bear Patterns
Measuring and graphing bears
Classifying bears from largest to smallest and by colors.
Art
"B" Crafts
Paper Bag Puppets
Tissue paper butterflies
Birdfeed playdough
Writing/Journals
Weekly Journal-My favorite animal is...
Students write and draw a picture in their jounal about the journal topic, with teacher/aide help.  
Acrostic B animal poem
Social Studies
Teacher will use the smartboard to show class research about the state bird.