Instruções gerais para seguir uma receita
by Emanuel Santana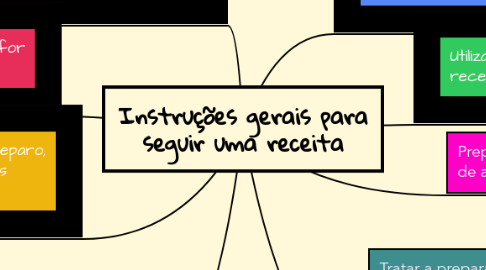 1. Ler com atenção antes de iniciar o preparo.
1.1. English
1.1.1. Text book p. 55-60
1.1.2. Joseph Conrad "Heart of Darkness"
2. Utilizar os recipientes indicados nas receitas.
2.1. Spanish
2.1.1. Midterm
3. Fazer previamente o pré-preparo, separando os ingredientes, os equipamentos e os utensílios.
3.1. Physics
3.1.1. Research and prepare experiment
4. Pré-aquecer o forno quando for solicitado na receita.
4.1. Spanish
4.1.1. New vocabulary
5. Selecionar receitas testadas de fontes seguras e conhecidas.
5.1. Maths
5.1.1. Text book, exercises 34, 35, 36, 37
6. Preparar os ingredientes antes de adicioná-los.
7. Cozinhar os alimentos conforme indicação na receita, seguindo o tempo e a temperatura.
8. Tratar a preparação finalizada, conforme indicada na receita, por exemplo, resfriar, gelar antes de servir ou servir imediatamente.