iCloud
by
Mickael Drouet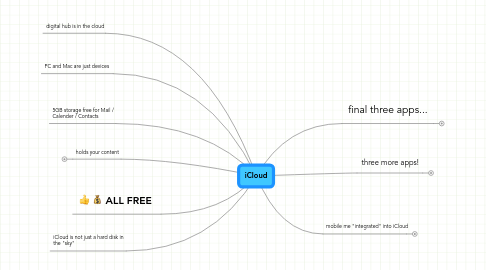 0.0
stars - reviews range from
0
to
5
iCloud
PC and Mac are just devices
digital hub is in the cloud
iCloud is not just a hard disk in the "sky"
holds your content
pushed to all devices
integrated with apps
mobile me "integrated" into iCloud
Contacts
Calender
with sharing
Mail
@me.com
NOW FREE!
three more apps!
App Store
purchase history on all devices
no extra charge
buy one app and it gets installed on all devices!
iBooks
same as apps
downloaded to all devices
read state gets pushed OTA
Wireless backup devices to iCloud
music purchased
apps
books
photos
videos
app data
device settings
final three apps...
Documents in the Cloud
e.g. Pages
pushed to all devices with pages
already in latest versions released last week
Steve: "killing the file system"
iCloud storage API, Mac & PC too
Photo Stream
take a photo on the iphone and its automatically uploaded to the cloud and downloaded to all other devices
build into apps, nothing new to learn
also adding the AppleTV
the question of photo size, the last 1000 photos get stored on iDevices, other photos have to be moved to an album, on mac & pc there will all get stored, 30 days on the server to sync
seems to be Wi-Fi only
iTunes in the Cloud
purchase history on any device
download everything you bought / buy OTA
no extra charge for multiple downloads
up to 10 devices
ALL FREE
5GB storage free for Mail / Calender / Contacts