Pedagogical Concerns for Classroom Practice
by María Mena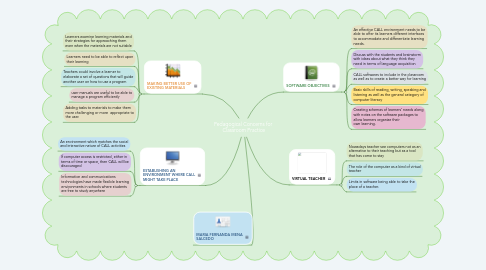 1. MAKING BETTER USE OF EXISTING MATERIALS
1.1. Learners examine learning materials and their strategies for approaching them even when the materials are not suitable
1.2. Learners need to be able to reflect upon their learning
1.3. Teachers could involve a learner to elaborate a set of questions that will guide another user on how to use a program
1.4. user manuals are useful to be able to manage a program efficiently
1.5. Adding tasks to materials to make them more challenging or more appropriate to the user.
2. ESTABLISHING AN ENVIRONMENT WHERE CALL MIGHT TAKE PLACE
2.1. An environment which matches the social and interactive nature of CALL activities
2.2. If computer access is restricted, either in terms of time or space, then CALL will be discouraged
2.3. Information and communications technologies have made flexible learning environments in schools where students are free to study anywhere
3. SOFTWARE OBJECTIVES
3.1. An effective CALL environment needs to be able to offer its learners different interfaces to accommodate and differentiate learning needs.
3.2. Discuss with the students and brainstorm with ideas about what they think they need in terms of language acquisition
3.3. CALL softwares to include in the classroom as well as to create a better way for learning
3.4. Basic skills of reading, writing, speaking and listening as well as the general category of computer literacy
3.5. Creating schemas of learners' needs along with notes on the software packages to allow learners organize their own learning.
4. VIRTUAL TEACHER
4.1. Nowadays teacher see computers not as an alternative to their teaching but as a tool that has come to stay
4.2. The role of the computer as a kind of virtual teacher
4.3. Limits in software being able to take the place of a teacher.
5. MARIA FERNANDA MENA SALCEDO