Why Integrate Technology?
by Samantha Thompson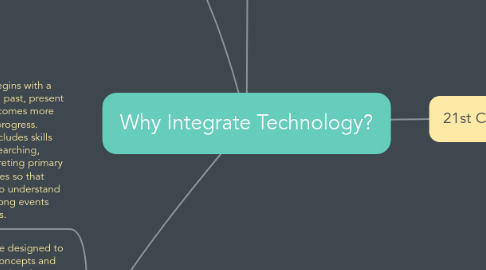 1. 21st Century Skills
1.1. Technology provides tools to use these skills
1.2. Creativity and Innovation
1.3. Communication and Collaboration
1.4. Research and Information Literacy
1.5. Critical Thinking
1.6. Nonlinear Thinking
1.7. Visual Literacy and Visual Thinking
1.8. Spatial Thinking
1.9. Digital-Age Reflection
2. Different Types of Learners
2.1. Multiple Intelligence
2.2. Culuture, Etnicity, & Language
2.3. Autism
2.4. ADD/ADHD
2.5. Intellectual & Learning Disabilities
2.6. Learning Styles
2.7. At Risk
2.8. Gifted & Talented
2.9. Physical
3. Standards That Include Technology
3.1. Historical thinking begins with a clear sense of time ± past, present and future ± and becomes more precise as students progress. Historical thinking includes skills such as locating, researching, analyzing and interpreting primary and secondary sources so that students can begin to understand the relationships among events and draw conclusions.
3.2. The 2010 standards are designed to include the essential concepts and skills to allow for instruction that fosters deeper understanding. The social studies standards directly address the 21st-century skills of civic literacy, financial and economic literacy and global awareness. Links to other 21st-century skills such as problem solving, communication, media literacy and leadership are more fully developed in the model curriculum. The model curriculum provides instructional support including content elaborations, expectations for learning, instructional strategies, instructional resources, connections and essential questions.
3.3. Visualize change (and continuity) over time and space. Timelines might consider spatial arrangements, as well as temporal ones
3.4. Spatial thinking examines the relationships among people, places and environments by mapping and graphing geographic data. Geographic data are compiled, organized, stored and made visible using traditional and geospatial technologies. Students need to be able to access, read, interpret and create maps and other geographic representations as tools of analysis.
4. Global World & Workplace