ADDIE- Agile
by Frank Fletcher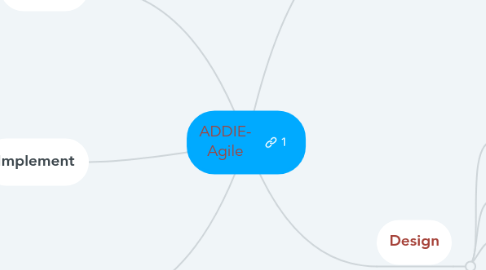 1. Analyst
1.1. Needs Assessment
1.1.1. What existing knowledge do they have?
1.1.2. What are the learners' job related needs?
1.2. Adult Learners
1.2.1. What do they expect? What do they need?
1.2.2. How can I as a trainer help them learn without making the course difficult to complete?
2. Design
2.1. Can we use an existing tool /template?
2.1.1. Who can do the work?
2.1.2. What Cognitive features will instruction incorporate?
2.2. In-depth research on topic
2.3. Who is our Learning owner?
2.3.1. What are some potential challenges to this Instruction?
2.4. Create 1 page learning plan
2.4.1. Estimate
2.4.1.1. Estimate should be under 80 hours
2.4.1.2. Cost should be clear
2.4.2. What Instruction will Deliver in simple sentences
2.4.3. Get sign-off from Learning Owner on Plan
3. Develop
3.1. Verify selected Software Tools can handle instructional design project with quick prototype
3.2. Create review with content owner after each module/piece developed.
3.2.1. If possible daily at times
3.3. Test site for speed, usability and Cognitive features per plan
3.4. Storyboard
4. Implement
4.1. Will the instruction site support the number of users?
4.2. Prototype quickly with small sub-set of users for small items to improve before full roll-out
5. Evaluate
5.1. Are users completing training? how long?
5.1.1. Build this into course or get from LMS
5.2. Do users feel they learned information in training? What can be improved?
5.2.1. Way to test for learning?
5.3. Determine if extension is needed immediately?