to kill a mocking bird
by Literature 4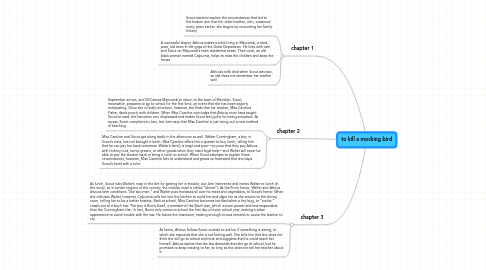 1. chapter 1
1.1. Scout starts to explain the circumstances that led to the broken arm that her older brother, Jem, sustained many years earlier; she begins by recounting her family history.
1.2. A successful lawyer, Atticus makes a solid living in Maycomb, a tired, poor, old town in the grips of the Great Depression. He lives with Jem and Scout on Maycomb's main residential street. Their cook, an old black woman named Calpurnia, helps to raise the children and keep the house
1.3. Atticus's wife died when Scout was two, so she does not remember her mother well
2. chapter 2
2.1. September arrives, and Dill leaves Maycomb to return to the town of Meridian. Scout, meanwhile, prepares to go to school for the first time, an event that she has been eagerly anticipating. Once she is finally at school, however, she finds that her teacher, Miss Caroline Fisher, deals poorly with children. When Miss Caroline concludes that Atticus must have taught Scout to read, she becomes very displeased and makes Scout feel guilty for being educated. At recess, Scout complains to Jem, but Jem says that Miss Caroline is just trying out a new method of teaching.
2.2. Miss Caroline and Scout get along badly in the afternoon as well. Walter Cunningham, a boy in Scout's class, has not brought a lunch. Miss Caroline offers him a quarter to buy lunch, telling him that he can pay her back tomorrow. Walter's family is large and poor—so poor that they pay Atticus with hickory nuts, turnip greens, or other goods when they need legal help—and Walter will never be able to pay the teacher back or bring a lunch to school. When Scout attempts to explain these circumstances, however, Miss Caroline fails to understand and grows so frustrated that she slaps Scout's hand with a ruler.
3. chapter 3
3.1. At lunch, Scout rubs Walter's nose in the dirt for getting her in trouble, but Jem intervenes and invites Walter to lunch (in the novel, as in certain regions of the country, the midday meal is called "dinner"). At the Finch house, Walter and Atticus discuss farm conditions "like two men," and Walter puts molasses all over his meat and vegetables, to Scout's horror. When she criticizes Walter, however, Calpurnia calls her into the kitchen to scold her and slaps her as she returns to the dining room, telling her to be a better hostess. Back at school, Miss Caroline becomes terrified when a tiny bug, or "cootie," crawls out of a boy's hair. The boy is Burris Ewell, a member of the Ewell clan, which is even poorer and less respectable than the Cunningham clan. In fact, Burris only comes to school the first day of every school year, making a token appearance to avoid trouble with the law. He leaves the classroom, making enough vicious remarks to cause the teacher to cry.
3.2. At home, Atticus follows Scout outside to ask her if something is wrong, to which she responds that she is not feeling well. She tells him that she does not think she will go to school anymore and suggests that he could teach her himself. Atticus replies that the law demands that she go to school, but he promises to keep reading to her, as long as she does not tell her teacher about it.