My ADDIE Model
by Kartik Korde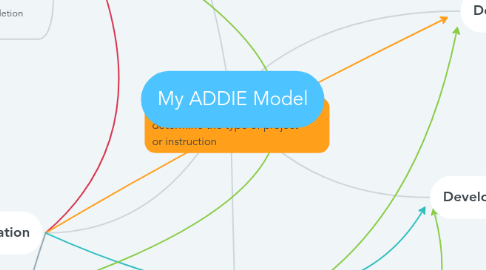 1. Analysis
1.1. instructional problem is clarified
1.2. instructional goals and objectives established
1.3. learning environment
1.4. learner existing knowledge/skills identified
1.5. audience + characteristics + new behavioral outcomes
1.6. types of learning constraints + delivery options + online pedagogical considerations + project completion timeline
2. Design
2.1. deals with
2.1.1. learning objectives, assessment instruments, exercises, content, subject matter analysis, lesson planning, and media selection.
2.2. should be systematic + specific
3. Development
3.1. developers create and assemble the content assets that were created in the design phase.
3.2. project review + revision according to feedback
4. Implementation
4.1. procedure for training the facilitators and learners is developed
4.2. facilitators training
4.2.1. course curriculum
4.2.2. testing procedures
4.2.3. learning outcomes
4.2.4. method of delivery
4.2.5. IMPORTANT - Train the learners on the technology on which the learning will take place.
5. Evaluation
5.1. USED THROUGHOUT THE PROJECT - applicable for each phase. ROUTINELY EVALUATE EACH PROJECT.
5.2. Take a go-no-go decision after each phase
5.3. each phase is iterative
5.4. note several project variables are calculated as the project progresses through each phase. These variables include cost, schedule, requirements, and risks
5.5. FORMATIVE EVALUATION
5.6. SUMMATIVE EVALUATION
5.6.1. Test Design