20 FREE, EASY WEB-BASED AUDIO TOOLS
by
Kathleen Farley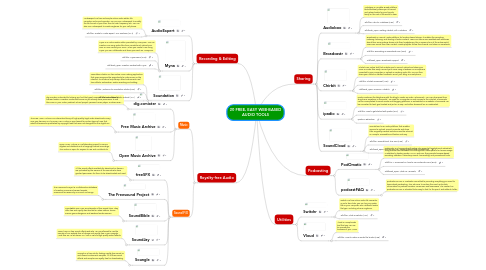 4.0
stars -
4
reviews range from
0
to
5
Podcasting
PodOmatic is a large podcast hosting site geared at less-technical individuals. They provide free bandwidth and storage with subscriptions for heavier usage. In addition to hosting media, HTML, and RSS, they provide browser-based recording, statistics, a directory, search, transcoding, and promotional tools.
A screencast on how to use Podomatic.com (8:59)
What's a Minicast?
podcastFAQ.com is a website committed to providing everything you need to know about podcasting. This site aims to contain the most up-to-date information for podcast creators, consumers and businesses. The content on podcastFAQ.com is intended to be easy to find, to the point, and without clutter.
Royalty-free Audio
Music
dig.ccmixter, dig.ccmixter is devoted to helping you find that great music, all of which is liberally licensed under a Creative Commons license so you already have permission to use this music in your video, podcast, school project, personal music player, or where ever…
Free Music Archive, The Free Music Archive is an interactive library of high-quality, legal audio downloads. Every mp3 you discover on The Free Music Archive is pre-cleared for certain types of uses that would otherwise be prohibited by copyright laws that were not designed for the digital era.
Open Music Archive, Open Music Archive is a collaborative project to source, digitise and distribute out-of-copyright sound recordings. The archive is open for anyone to use and contribute to.
Sound F/X
freeSFX, All the sound effects available for download on freeSFX are uploaded by the owners of the sounds who have granted permission for them to be downloaded and used.
The Freesound Project, The Freesound Project is a collaborative database of Creative Commons licensed sounds. Freesound focusses only on sound, not songs.
SoundBible, SoundBible.com is an encyclopedia of free sound clips. They offer free and royalty free sounds for video editors, movie scores, game designers, and weekend audio warriors.
SoundJay, Sound Jay is a free sound effects web site. You are allowed to use the sounds on our website free of charge and royalty free in your projects. Most files are 16 bit stereo 44.1 kHz or 48 kHz high quality sound effects.
Soungle, Soungle is a free site for finding royalty-free sound FX and musical instruments samples. All of their sound effects and samples are royalty free for downloading.
Utilities
Switchr is a free online audio file converter. In just a few clicks, you can turn any audio file on your computer into a different audio file type, including iPhone ringtones.
What is switchr? (1:27)
Vloud is a simple web tool that you can use to increase the loudness of your MP3s.
How to make an audio file louder (3:38)
Recording & Editing
AudioExpert is a free and simple online audio editor, file converter and sound recorder. You can use AudioExpert to modify the file format of your files, their bit rate, frequency, etc. You can also use AudioExpert to create ringtones for your cell phone.
Guide to Audio Expert - For Teachers! (4:14)
Myna is an online audio editor provided by Aviary.com. You can create a mix using audio files from SoundCloud, upload your own, or even record your voice. When you create a mix using Myna, you can collaborate and share your work on Aviary.com.
Myna Demo (4:36)
Create a Podcast with Myna
Soundation Studio is a free online music making application that gives everyone the opportunity to make music on the internet. It includes a loop library, virtual instruments, real time effects, automation, audio recording and editing.
Welcome to Soundation Studio (2:04)
Soundation Studio Tutorial (4:11)
Audioboo is a mobile & web platform that effortlessly allows you to record and upload audio for your friends, family or the rest of the world to hear.
Intro to Audioboo (2:04)
Getting Started With Audioboo
Broadcastr is a Social Media platform for location-based stories. It enables the recording, indexing, listening, and sharing of audio content. Users can take a GPS-enabled walk as stories about their surroundings stream into their headphones, like a museum tour of the entire world. Users can record their own content, create playlists, follow their friends, and share on Facebook.
Recording on Broadcastr.com (2:55)
Broadcastr Support
Chirbit is an online tool that enables you to record, upload and share your voice or audio files easily. Record your voice using a webcam or microphone conected to your computer, or upload an existing audio file. You can then share your chirbit on twitter, facebook, email, your blog, or smartphone.
Chirbit Screencast (1:00)
How Do I Chirbit?
ipadio combines the telephone with the blog to create an audio "phonecast." You can phonecast from any phone, anywhere in the world - no need for a computer or even access to the Internet. Phonecasts can be cross-posted to social media and blogging platforms or embedded on a website. Phonecasts can be converted to text, geo-located and put on a map, and either streamed live or moderated.
How to get started with ipadio (5:13)
ipadio in Education
SoundCloud is an audio platform that enables anyone to upload, record, promote and share their originally-created sounds across the internet, in a simple, accessible and feature-rich way.
SoundCloud: The Tour (2:35)
SoundCloud 101: Getting started with SoundCloud