RESOURCE MANAGEMENT
by santiago ortiz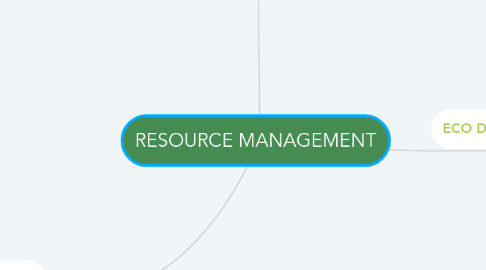 1. RESOURCES AND RESERVES
1.1. NON - RENEWABLE
1.1.1. A resource that does not replenish at a sustainable rate, this means that it cannot provide for itself at such a pace to be considered unlimited
1.1.1.1. Examples
1.1.1.1.1. - Gas
1.1.1.1.2. - Coal
1.1.1.1.3. - Oil
1.1.1.1.4. - Gasohol
1.1.1.1.5. - Nuclear Energy
1.2. RENEWABLE
1.2.1. Renewable sources are unlimited resources that do not abate, they are natural and replenish with time.
1.2.1.1. Examples
1.2.1.1.1. - Tidal
1.2.1.1.2. - Hydro
1.2.1.1.3. - Thermal
1.2.1.1.4. - Wave
1.2.1.1.5. - Bio Fuels
1.2.1.1.6. - Solar
1.2.1.1.7. - Wind
1.3. RESERVES
1.3.1. Reserves are natural resources that have or can be valued and that can technically be extracted. These resources belong to an entity and may not be viable or abailable for extraction.
2. WASTE MITIGATION STRATEGIES
2.1. As a throwaway society, we must learn strategies to be able to endure the changes and scarcities present in our society, some of these are:
2.1.1. RE - USE
2.1.1.1. Re using an object means to use again an object when it has no other apparent use. This can also be when the object is used again for similar purpose, and new-life reuse where it is used for an innovative purpose.
2.1.2. RECYCLE
2.1.2.1. Reusing the raw materials in obsolete products. When apporpriately managed, this can proove to be the most useful measure to manage the waste.
2.1.3. REPAIR
2.1.3.1. This term refers to the reconstruction or renewal of any part of an existing structure or device. This measure proves to be really useful to slow down the throwaway society in which we live.
3. ECO DESIGN
3.1. Environmentally aware design should be taught since the earliests of the stages in design, it is primordial since the impact that designers have on the environment is so crucial.
3.1.1. Focuses on all three broad environmental categories
3.1.1.1. Energy
3.1.1.2. Materials
3.1.1.3. Pollution / Waste