Career Development Plan
by Lauryn Jasmine Bedingfield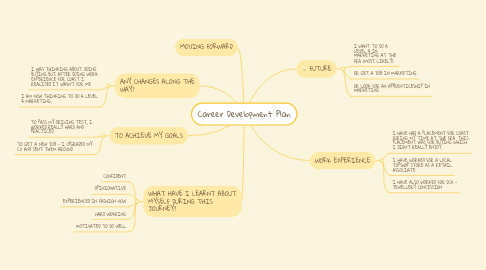 1. FUTURE
1.1. I WANT TO DO A LEVEL 4 IN MARKETING AT THE FRA (MOST LIKELY)
1.2. OR GET A JOB IN MARKETING
1.3. OR LOOK FOR AN APPRENTICESHIP IN MARKETING
2. WORK EXPERIENCE
2.1. I HAVE HAD A PLACEMENT FOR COAST DURING MY TIME AT THE FRA. THIS PLACEMENT WAS FOR BUYING WHICH I DIDN'T REALLY ENJOY.
2.2. I HAVE WORKED FOR A LOCAL TOPSHOP STORE AS A RETAIL ASSOCIATE
2.3. I HAVE ALSO WORKED FOR DCK - JEWELLERY CONCESSION
3. TO ACHIEVE MY GOALS
3.1. TO PASS MY DRIVING TEST, I WORKED REALLY HARD AND PRACTICED.
3.2. TO GET A NEW JOB - I UPGRADED MY CV AND SENT THEM AROUND
4. ANY CHANGES ALONG THE WAY?
4.1. I WAS THINKING ABOUT DOING BUYING BUT AFTER DOING WORK EXPERIENCE FOR COAST I REALISED IT WASN'T FOR ME.
4.2. I AM NOW THINKING TO DO A LEVEL 4 MARKETING.
5. WHAT HAVE I LEARNT ABOUT MYSELF DURING THIS JOURNEY?
5.1. CONFIDENT
5.2. OPINIONATIVE
5.3. EXPERIENCED IN FASHION NOW
5.4. HARD WOKRING
5.5. MOTIVATED TO DO WELL
6. MOVING FORWARD