Uchronia Time on "The Traveller's Wife"
by
Ioanna Pastarmatzi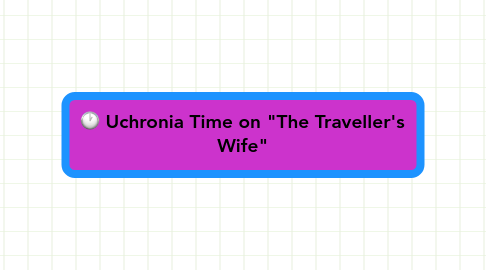 5.0
stars -
1
reviews range from
0
to
5
Much like the author,Audrey Niffenegger herself, Clare is a papermaking artist, very committed to her craft. Touching things is what makes them real to her. Then why does she fall in love with Henry, a time traveler, the most elusive person of all? A case of opposites attract?
When Clare is six years old and Henry 26 (IOANNA'S UCHRONIA), Clare's parents see them and try to stop her from seeing him again, Clare stresses herself and becomes a time traveler, too
Clare: 18 years old, Henry: 38
Clare: 6 years old, Henry: 26, place: meadow behind Clare's house, action: Clare finds strange traces of a male person (clothes, shoes, etc.) and she is trying to find out who is the owner. During her effort, Henry leaves photos, letters, gifts for Clare and she falls in love with him. (Uchronia by Iraklis Lampadariou - IL)
Clare is left alone 3 times on their wedding day
Clare said NO the first time Henry proposed to her (IOANNA'S UCHRONIA), They split up (after Clare's saying NO), Clare marries someone else and has a child with him, Clare splits up with him too and finally marries Henry, Clare's child (a boy) is NOT a time traveller like his mother
Clare knows about Henry's "problem" and she takes the desicion to spend her whole life with him even by distance. She is trying to find a solution to his problem and she accepts Henry's proposal. Clare is left alone 2 times on their wedding day but the passion for Henry and the will to help him gets bigger. Now she is more determined than never before. (Uchronia by IL)
6 miscarriages
1 full term pregnancy
1 vasectomy
Their daughter ALBA is born, A time traveler, too, like her father, But she has control over her 'travels', A music prodigy, taking after her grandparents (IOANNA'S UCHRONIA), As she becomes older, she starts giving recitals and accepting the public's admiration, At one point, she 'meets' her grandmother (in one of her travels) and perform TOGETHER!, Alba with Clare's help succeed to explain how the time travel works, she writes everything and she makes lots of travels in order to meet with other travelers and get more information about this. Her father plays an important role in this adventure. Alba teaches her mother how she can travel through time too. All members of the family make journeys together and they are all very happy. (Uchronia by IL)
On New Year's Eve 2006 Henry time travels into the middle of the Michigan woods in 1984 and is accidentally shot by Clare's brother. Henry returns to the present and dies in Clare's arms.
I want to delete this part in my Uchronia ;) (IL)
Clare devastated (IOANNA'S UCHRONIA), She starts writing a book describing her situation in order to improve her psychology, Her book becomes a world famous novel and Henry visits her in the book tour, Clare starts writing her second book for children this time
'Stop waiting' from Henry in a letter
Clare 82, Henry 43: they meet again (for the last time?), Henry is her doctor (EDITH'S UCHRONIA), she has cancer, During her Clinical death they make another time travel together, They meet Alba and their son, visit al places where they were together, Claire died after 5 days, Hernry remarries, His new wife, Sara is a time traveller, too
Because they are both (Clare and Henry) time travelers, they are enjoying their common travels and their destination to most of their journeys is the past and not the future. So, they are immortal and no one can destroy their life. They have chosen to spend their life in order to protect the society from bad people and they also co-operate with doctors in order to develop new cures and medicines. They managed to fight cancer, AIDS and other diseases. (Uchronia by IL)