The Numerati
by
John Michl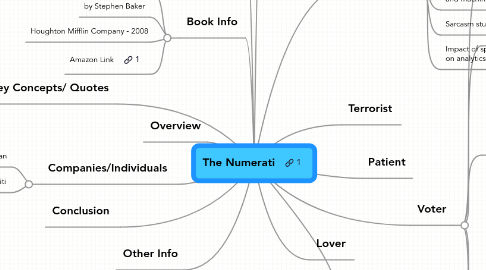 5.0
stars -
1
reviews range from
0
to
5
Book Info
The Numerati
by Stephen Baker
Houghton Mifflin Company - 2008
Shopper
Semantic detail
Chapter Quotes
Buckets
** Spam vs. Medicine
Consumer modelling
Worker
Office workers historically less productive and not easily measured
MSFT patent in 2006 to measure worker vital signs
IBM
WARP
George Dantzig
Chapter Quotes
Voter
Republican and Democrate fail to describe most of us
Monitor - What in the world were they thinking?
Example of building campaign focused on five values
Voter groups
Simplex Triangle
Blogger
Millions of people voluntarily broadcast their lives daily via blogs, YouTube, etc.
Relevance vs. Timeliness
Data mining of blog content - timely; spot development of trends, issues, hot topics
Natural language processing and machine language
Sarcasm stumps the machine
Impact of spam blogs (splogs) on analytics
Terrorist
Patient
Lover
Conclusion
Other Info
Companies/Individuals
Tacoda - Dan Morgan
IBM - Samer Takriti
Overview
Contributors to this Map
Key Concepts/ Quotes
What kind of science gets it wrong 25% of the time?
While truth is vital in the world of machines, by nature it is approximate -- based on probability.
Truth, therefore, is not make-or-break-it for The Numerati. They triumph if they come up with better, quicker, or cheaper answers than the status quo. (p90)
KEY MORAL ISSUE