GRAMMAR TRANSLATION METHOD
by ANA CRISTINA DIAZ ORTEGA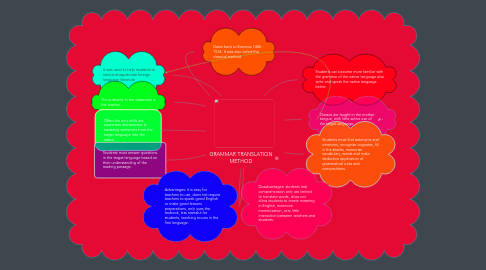 1. Students can become more familiar with the grammar of the native language also write and speak the native language better.
2. It was used to help students to read and appreciate foreign language literature
3. The authority in the classroom is the teacher.
4. Dates back to Erasmus 1466 - 1536. It was also called the classical method.
5. Classes are taught in the mother tongue, with little active use of the target language.
6. Often the only drills are excercises disconected in traslating sentences from the target language into the native.
7. Students must answer questions in the target language based on their understanding of the reading passage.
8. Students must find antonyms and sinonyms, recognize cognates, fill in the blanks, memorize vocabulary, words and make deductive application of grammatical rules and compositions.
9. Advantages: it is easy for teachers to use, does not require teachers to speak good English or make good lessons preparations, only uses the texbook, less stressful for students, teaching occurs in the first language.
10. Disadvantages: students lack comprehension only are limited to translate words, does not allow students to create meaning in English, extensive memorization, very little interaction between teachers and students.