What's New in MindMeister 3
by
Michael Hollauf (Archive)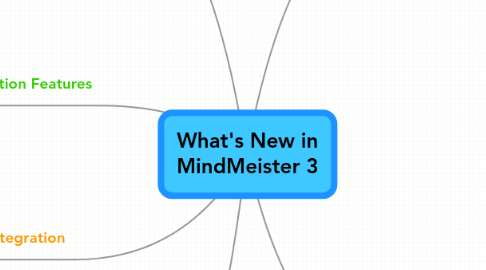 4.3
stars -
23
reviews range from
0
to
5
What's New in MindMeister 3
Team Edition Features
Enhanced Mass Import
European and American CSV files are now supported.
Restrict sharing to email domains
Map Features
Resize ideas (labels)
and better wrapping
replay changes
everybody can edit
Quickshare of maps
Advanced Task Dialog
Start Date
Duration
Delete Tasks
WunderTask
Email Reminders
WebCal Task Feeds
Task Overview in detailed map list
Recommendations in map view
Find in maps
CTRL-F
Clone public map to My Account
New UI
organic lines
Formatting nodes
Add notes, links and tasks
Expand / collapse levels
Enhancements
New export dialog
Export as .mind
Better printing (via PDF)
Geistesblitz email supports attachments
Offline Mode
Support for Safari/Fluid
Desktop Icon
Rewrite for new Gears version
Login enhancements
Login with email address
Login widget for OpenID
Larger note previews
If there is a lot of text in a note, the preview window will now adjust accordingly to display the whole text and remove the need for excessive scrolling. Like in this note, where I had to add lots of meaningless text to make it long enough for the larger note preview ....
Framework Features
Search / filter for maps
All tags visible (dropdown)
Import text files
New invitation widget
Invitation status overview
Quick Signup
UI Updates
Homepage
Signup Pages
My Account
Content Pages
Business and Academic Edition
New licensing / pricing models
Overview pages
API / Integration
Updates
Version 3.1
Connections between ideas
Select maps to take offline
Nudge inactive users
Alphabetize subnodes
Skip share message