Cordillera Administrative Region (CAR)
by Germaine Justin Cruz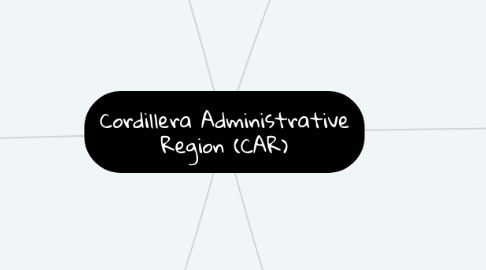 1. Abra
1.1. Abra province had been a blank spot on the Philippine tourist map… until photos of #2 on this list got viral online. Travelers are now starting to explore many travel-worthy sights in this landlocked province. Abra is often skipped partly because of its location in North Luzon. It is sandwiched between two very popular tourist destinations — Ilocos in the west and the Cordilleras in the east. What you're going to see in Abra is a mix of both. You can find Spanish-colonial heritage sites and Ilokano culture as well as captivating mountain views and hill tribe traditions.
1.1.1. Tourist Destination
1.1.1.1. Kili Falls & Hot Spring
1.1.1.2. Apao Rolling Hills
1.1.1.3. Kaparkan Falls
1.1.1.4. Tayum Church & Heritage Houses
1.1.1.5. Gabriel Silang Gallery of Fine Arts
2. Benguet
2.1. Benguet is the home of the centuries-old mummies, a place of Rocky Mountains and pine trees, the water source of Asia's second largest dam, the strawberry capital of the Philippines, the terrain where the historic Mt. Pulag is found, the vegetable panorama of the North, a land of fascinating caves and mystical caves and mystical lakes, and a place where vegetables flourish and where cacti-flowers bloom.
2.2. Benguet was recognized with prestigious awards from various institutions for its good governance and for its gigantic developments amidst cultural genocide and climate change. Some of awards are; "May Malaking Pag-angat sa Kaunlaran Pantao" (Big Leap to Human Development Award), and "May Mataas na Kaunlarang Pangtao (High Human Development Award) given on May 20, 2009 by the United Nations Development Program (UNDP) and Government of New Zealand in coordination with Human Development Network recognizing Benguet as the No. 1 in the list of country's most improved provinces among the 77 provinces and several urbanized cities including Metro manila.
2.2.1. Tourist Destination
2.2.1.1. The Strawberry Farm
2.2.1.2. Mt. Kalugong
2.2.1.3. Mt. Jumbo (also known as Mt. Yangbaw or Jhangbow)
2.2.1.4. The Tawang Stone Church
2.2.1.5. The Longlong Communal Forest
3. Kalinga
3.1. The name Kalinga is derived from the Ibang and Gaddang Kalinga, which means headhunters. In the past, headhunting was considered noble and it symbolizes bravery. Tattoos, a status symbol which men respect and which women admire, are given to warriors as reward. Thus a mingol or warrior enjoys a high status in Kalinga society. The Bodong to the Kalingas or peace pact is an indigenous socio-political system that defines intertribal relationships. This was developed to minimize traditional warfare and headhunting and serves as an institutional renewal, maintenance and reinforcement of social ties. Recently, the Bodong was expanded into a multi-lateral peace pact providing a means of strengthening unity in some parts of the Cordilleras. The Spanish missionaries and politico-military forces successfully penetrated into the forbidding Apayao and Kalinga Tribal territories as early as 1608 when Father Geronimo Molina started his mission work in Pudtol (Apayao) and also in 1689 at Tuga (Kalinga) where the first Catholic Mass was celebrated.
3.1.1. Tourist Destination
3.1.1.1. Tabuk
3.1.1.2. Tinglayan
3.1.1.3. Buscalan
4. Apayao
4.1. The province of Apayao boasts its own collection of natural wonders that are otherwise not found in the rest of the Cordilleras. Little wonder that it has been dubbed as "Cordillera's Last Frontier for Nature Richness." Here, underground rivers, majestic waterfalls, magnificent lakes hug a unique land that is replete with captivating caves, picture-pretty parks, and exotic wildlife. Delve deep into underwater splendor being offered by Malabisin Lake and Underground River as well as Waton Subterranean River. Come up the surface to gape at fish and wildlife, which are highly visible in the unpolluted waters of Apayao River. And do stop to admire the myriad of picturesque waterfalls of varying sizes that are found along the river. Commune with nature and marvel at wondrous sights at the Agamata, Agora, and Anag-Sicapo wildlife sanctuaries. Scale the heights of Mount Solo, the highest peak in Apayao. Stumble into untold discoveries at Purit, Anganupan, Nalvo, and countless other caves that make Apayao a whole lot more than simply interesting.
4.1.1. Tourist Destination
4.1.1.1. Maton Underground River
4.1.1.2. Mt Solo
4.1.1.3. Lussok Crystal Cave
4.1.1.4. Maxibab Falls
4.1.1.5. Carmella Falls
5. Mountain Province
5.1. A landlocked province of the Philippines in the Cordillera Administrative Region in Luzon. Its capital is Bontoc. Mountain Province was formerly referred to as Mountain in some foreign references. The name is usually shortened by locals to Mt. Province. The province was named so for being in the Cordillera Central mountain range found in the upper realms of Luzon island. Mountain Province was also the name of the historical province that included most of the current Cordillera provinces. This old province was established by the Philippine Commission in 1908,[3][4][5] and was later split in 1966 into Mountain Province, Benguet, Kalinga-Apayao and Ifugao.[6][7][8] The province is also known for its mummy caves, which contain naturally mummified bodies, and for its hanging coffins.[6]
5.1.1. Tourist Destination
5.1.1.1. Sumaguing Cave
5.1.1.2. Bomod-Ok (Big) Falls
6. Ifugao
6.1. Ifugao is home to a thriving ancient culture and host to the famous rice terraces carved from the base of the mountainsides to the top, which appear to be massive green stairways reaching to the sky. The famous terraces had been inscribed in UNESCO's World Heritage List in 1995 as "a continuing cultural landscape" and likewise considered by the U.S. Association of Civil Engineers as an engineering marvel built by unschooled and free men not of slave labor. It was a credit to the inherent wisdom of the Ifugao forefathers that a forest and watershed management system was instituted to help sustain the terraces that serve as the basic food source of the sturdy Ifugaos. The Ifugao native huts could probably be among the world's first prefabricated houses that do not use a single nail or metal to fasten their parts.
6.1.1. Tourist Destination
6.1.1.1. Batad Rice Terraces
6.1.1.2. Banaue Rice Terraces
6.1.1.3. Hapao Rice Terraces
6.1.1.4. Tam-an Village
6.1.1.5. Mayoyao Rice Terraces