Shawn Mendes
by Klaudia Bartnicki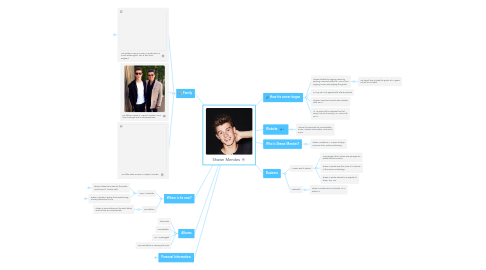 1. Where is he now?
1.1. Tours / Festivals
1.1.1. Shawn's latest tour was his Illuminate World Tour ft. Charlie Puth
1.1.1.1. Shawn did play here in Montreal at the Bell Centre on August 14th 2017
1.1.2. Shawn Mendes is going to be performing at many festivals in 2018
1.1.2.1. For example Bluesfest in Ottawa
1.2. Next album
1.2.1. Shawn is now working on his next album and his fans are very excited!
2. Family
2.1. His mother's name is Karen Mendes who is a real estate agent. She is also from England.
2.1.1. Materials
2.1.2. Personnel
2.1.3. Services
2.1.4. Duration
2.2. His father's name is Manuel Mendes. He is from Portugal and is a business man.
2.3. His little sister's name is Aaliyah Mendes.
3. How his career began
3.1. Shawn started his singing career by posting 6 second videos to Vine of him singing covers and playing the guitar.
3.1.1. He learnt how to play the guitar at 13 years old off of Youtube
3.2. In May 2014 he signed with Island Records
3.3. Shawn's very first concert was October 26th 2013
3.4. At 16 years old he released his first song "Life of The Party" on June 26th 2014.
4. Albums
4.1. Illuminate
4.2. Handwritten
4.3. MTV Unplugged
4.4. His new album is coming out soon
5. Website
5.1. Where he promotes his merchandise, music, concert information, and much more
6. Who Is Shawn Mendes?
6.1. Shawn Mendes is a 19 year old pop musician from Ontario Pickering.
7. Personal Information:
7.1. Birthday
7.1.1. August 8th 1998
7.2. High School
7.2.1. Pine Ridge Secondary School
7.3. Full Name
7.3.1. Shawn Peter Raul Mendes.
8. Business
8.1. Movies and tv shows
8.1.1. Surprisingly, when Shawn was younger he wanted to be an actor
8.1.2. Shawn Mendes was the voice of a cartoon in the movie Underdogs
8.1.3. Shawn Mendes starred in a popular tv show; The 100
8.2. Networth
8.2.1. Shawn Mendes has a net worth of 12 million $