Ice Teaching Ideas
by
Cindy Doyle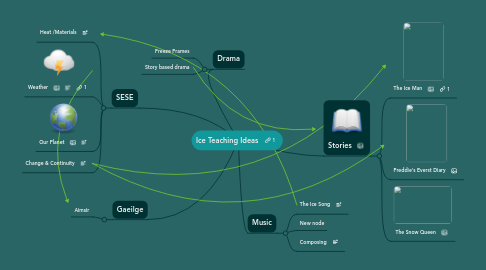 0.0
stars - reviews range from
0
to
5
Stories
Freddie's Everst Diary
The Snow Queen
SESE
Heat /Materials
Effects of Heating and Cooling on different materials. Eg. Ice -> Water -> Steam.
Weather observation diary - integrate with Gaeilge. Create tools for weather observation - rain guage, wind  
Our Planet
Hot and Cold Places in the World. Global Warming - fact or fiction? Debate - linkage with English  
Change & Continuity
Exploring and Expeditions throughout the years - using stories and artefacts.  
Gaeilge
Aimsir
Music
The Ice Song
A song about the state of water in its solid form sung to the tune of 3 Blind Mice  
New node
Composing
Using a Weather Image to come up with sounds associated with that image & compose a tune from those sounds.
Drama
Freeze Frames
Story based drama