Mobile Marketing & Technology Blueprint for Small Business - Inside Mobile Niche
by
Inside Mobile Niche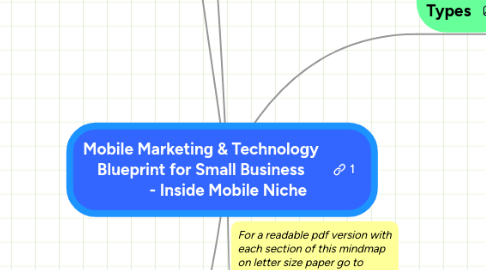 5.0
stars -
2
reviews range from
0
to
5
Integration
How will you incorporate mobile with your other marketing - online and offline?
Cross promotion - website, social media, email, word of mouth
Shopping cart - separate or same as web, Facebook
Third party Integration tools (more expensive, larger businesses). Small business - do you need to?
How will your get the work done - in-house/outsourcing/both?
Mobile Strategy
Why Mobile for your business?
Review mobile facts and statistics, Mashable Mobile [Infographics]: http://nich.in/mashmbp, Mobile Marketing Association: http://nich.in/mmabp, Mobile Commerce Daily: http://nich.in/mcommbp, Mobile Marketing Watch: http://nich.in/mmwbp
Current and/or future market opportunities
Market assessment. Is your current market ready? Target market? Are you?
Check Google Analytics - are current customers visiting via mobiles?
Are your customers asking for it?
Are you missing market opportunities
Are your competitors offering it?
Could you be first to market?
What are your goals?
What is your budget?
Who will do the work?
In-house
Contractors
What is your timeline?
What mobile venues make the most sense for your business? (size, budget, market, expertise)
Easiest/Most Affordable, SMS/Text Message Marketing, QR Codes, Mobile Landing Pages, Mobile website via free/low cost tools i.e. Google
Medium Difficulty/Average Cost, Mobile Website - Templates that can be modified, Mobile Apps - Multi-platform app generators (i.e. one app for iPhone/Android/BB
More Difficult/More Cost, Native apps through iTunes, Android Marketplace - Each app developed separately, Custom mobile website developed from scratch. Large database of content.
Can you implement your mobile strategy in phases?
Start with easiest, Move to more complex as market responds
What would you like your mobile content be?
Mobile website with menus, store, etc.
Games, contests, etc. separate from business.
Separate content on mobile website designed for mobile usage (PREFERRED)
Coupons, voting, contest, polls, specials
Existing website viewable more easily on mobile phone (minimum)
Company contact and location information
Menu, schedule, etc.
Storefront
Mobile payment solution
Types
SMS/Text Message Marketing
Tips, Abide by the Mobile Marketing Association code of ethics., Opt-in only - do not spam or import phone numbers into your text message list, Have a terms of use and privacy policy so subscribers know what they're getting into, Provide high value in exchange for users giving them their phone number, Get creative - Make it interactive - Get feedback - Make it fun!
Types, Text message service only, All-one-services: i.e. QR codes, email, phone, integration
Advantages, Easy to get started, Can launch quickly, Cost effective, Builds you a separate and new list!, More phones are text message capable than smart phones, Texting is NOW and immediate, Easy to track, Can test fairly quickly, Not everyone wants to be on an email list, Can reach your audience in real time, Can run polls, voting, contests, get feedback, Can be viral, text messages are forwarded
Disadvantages, Can have limited market (i.e. older people that don't text so much), Can get stale if offers aren't valuable enough, newness wears off, Used alone and without cross promotion probably a limited life - must be part of overall strategy, If not used properly (not opt-in, over texting) you can lose business/customers - (and get fined if not observing opt-in rules), Not everyone has an unlimited text plan - must offer VALUE!, While service is free, carrier may charge them.
QR Codes
Uses: Send people to, Mobile website, Social media - i.e. Facebook Like / Twitter Follow ..., Coupon, Video to product information, Voting, Polls, Contests, Signup for email list, Opt-in to SMS/Text Message List, Mobile landing page - contact information, order screen, menu, etc., Shopping Cart or Purchase page
Tips, Use a URL shortener vs. a full website url - for tracking abilities and density of code (easier to scan). i.e. bit.ly, goo.gl (public), Yourls, Send user to a mobile URL, coupon, landing page since that is what they are scanning with vs. full size browser URL., Consider a paid vs. free QR Code creator if you don't want the code to be public (google security and hackers with qr codes), If analytics are important, paid QR code services can be used (unless you have access to your own URL shortener - i.e. bit.ly or YOURLS, Put on windows, print advertising, menus, brochures, email, Facebook Post, other social media, etc., Not all QR Code Generators are created equal. Read about the quality of QR Codes here: http://nich.in/qrsqualbp
Advantages, Easy to use with current print and web materials, When using with a URL shortener, create the code once, and if something changes no need to change the QR Code, New and cool perception - curiosity, Easy and inexpensive to get started, Additional branding opportunity - custom QR Codes with logos (QRLicious)
Disadvantages, Education- Not everyone knows how to scan these or what they do, Not everyone has a smart phone that can scan them., If no URL shortener is used, code can get dense and not so readable
Mobile website / Landing pages
Type, Current website optimized on mobile - (Bare minimum), WordPress plugins, Separate mobile website (RECOMMENDED), Custom mobile website, Modified Template, Mobile Landing Pages, Mobile Coupons, Email/Text opt-ins, Menus, Company Information
Tips, Keep it simple - mobile website does not need to be complicated - the simpler the better. Think of what user wants to do from their phone., Provide clicks to call, Likes and Follows, menus if applicable, google map, orders, payment solution, opt-in forms to email/text list., Start simple - consider a template to be modified vs. custom
Advantages, Providing user with mobile experience without having to pinch/zoom - more effective, Additional audience clearer call to action
Disadvantages, If only providing a mobile display of current site - will lose people and missing out on huge market, Need data/internet connection with phone, Best solution has separate website strategy
Mobile payment solutions: mobile commerce, mcommerce, mobile ecommerce, mobile wallet
Issues, Users demanding payment features faster than solutions - AND willing to take the risk., Best practices and industry standards still being developed., More (perceived) Security, Personal or credit card information doesn't need to be entered at the time of the transaction., Prepaid provider, Apps, phone scanning, SIM cards, PIN #s, SMS, Less (perceived) Secure, Existing shopping cart with mobile enabled browser (ie. paypal, credit card can be entered through phone)
Advantages, Consumers WANT this!, Provides for customers to buy NOW!, Convenient, Can convert ins-store and non in-store visitors to sales, When implemented positively - user engagement is very high, returns, Technology market advantage over competitors
Disadvantages, Some users still unsure of security of data via mobile phone - that's changing, Not everyone has or uses Smartphone capabilities, If the user experience is too much trouble or doesn't work smoothly, miss opportunities (i.e. pinch/zoom, have to enter email, password, etc., Many solution options - how to integrate for all platforms, Some solutions only provide for certain platforms (i.e. iPhone, iOs) not centralized per platform., Market is young, finding an all-in-one solution is harder, security standards still being developed/tested., Consumer desires are ahead of solutions - Demand and supply.
Tips, Google: Read Starbucks mobile & gift payment example, Find a solution for at least both majority platforms (Apple/Android, Blackberry next), If possible find solution where user doesn't have to enter email and password. Security is built in other ways
Mobile Apps
Platforms, Android, iPhone/iPad, Blackberry, Other: Windows/Palm/...
Type of Apps, Native - developed separately - Apple (appstore), Android (Market), Blackberry, Multi-platform - same app works on more than one platform
Tips, Consider App vs. mobile website carefully - do you really need an app? Could you start with mobile website. (small business), Consider multi-platform
Advantages, Often no website connection needed, Can be good user experience, If native, can be found in Apple/Android/BB App Stores, There are some template and DIY app makers out there, Can be faster loading time than mobile website (no dependency on connection speed)
Disadvantages, Users must download, Can get complex /expensive if developing only for one market (i.e. Apple). Missing huge markets!, Must be updated by user to get changes
Resources
SMS/Text Messaging Services
Text message only services, YepText: http://nich.in/yepbp, MotoMessage: http://nich.in/motobp, Txt180: http://nich.in/txt180bp, Tatango: http://nich.in/tatbp
All-in-one Solution, Trumpia: http://nich.in/trumbp
QR Codes
Paid, QR Stuff: http://nich.in/qrsbp, QRLicious: http://nich.in/qrlbp, Qreate: http://nich.in/qreatebp, Daqri: http://nich.in/daqbp, Tagginn: http://nich.in/tagbp
Free Generators (public) - Google search public QR Code generators before using, QR Stuff: http://nich.in/qrsbp, Google: http://nich.in/goobp, Kaywa: http://nich.in/kaybp, ZXing: http://nich.in/zxingbp, Delivr: http://nich.in/delbp, Tagginn: http://nich.in/tagbp
Mobile Websites / Landing Pages
Templates, Basic, Network Solutions (click websites, mobile websites): http://nich.in/netbp, wirenode: http://nich.in/wirebp, More Features/Flexibility, Movetodotmobi: http://nich.in/movtobp, iFolios (photographers): http://nich.in/ifolbp, Mobisitegalore: http://nich.in/mobsgbp, Mobilizetoday: http://nich.in/mobtbp, Meetemplates: http://nich.in/meebp, iFly: http://nich.in/iflybp, Mofuse: http://nich.in/mofbp, Mobify: http://nich.in/mobmbp, Movitas (hotel/resort also SMS+): http://nich.in/movibp
Custom, Pinch/Zoom: http://nich.in/pinchbp
Mobile Optimized, Wordpress Plugins (some existing website optimized, others separate mobile website), WPTap: http://nich.in/wptapbp, WPTouch Pro: http://nich.in/wptbp, WPMob: http://nich.in/wpmbp, OboxMobile: http://nich.in/oboxbp, Movetodotmobi: http://nich.in/movtobp, bMobilized: http://nich.in/bmobbp, Delivr: http://nich.in/delvbp
Analytics, Percentmobile: http://nich.in/percbp, Google analytics: http://nich.in/gooanbp
Coupons, Yowza: http://nich.in/yowbp
Mobile Apps
App Creators, 99Apps: http://nich.in/99appbp, Mobile Roadie: http://nich.in/mobrobp, Genwi: http://nich.in/genwbp, Appcelerator: http://nich.in/appcbp, Widgetbox: http://nich.in/widgbp, eventmobi: http://nich.in/evntbp, mippin: http://nich.in/mipbp, Google Labs App inventor: http://nich.in/gooapbp
Mobile Payment Solutions (mobile commerce, mcommerce, mobile wallet, mobile ecommerce)
Apps/Services/Providers, Gopayment (Intuit): http://nich.in/gopaybp, Square: http://nich.in/sqrbp, BigCommerce: http://nich.in/bigcbp, Mowbi: http://nich.in/mowbp, Payware mobile: http://nich.in/paywbp, Google Wallet: http://nich.in/goowbp, PayPal Mobile (developers guide): http://nich.in/paypbp, Zong (eBay, PayPal interest): http://nich.in/zongbp, mShopper: http://nich.in/mshopbp, Paytoo: http://nich.in/paytobp
All-in-one Solutions
Mixmobi: http://nich.in/mixmbp
Mofuse: http://nich.in/mofubp
Movitas (hotel/resort also SMS+): http://nich.in/movibp
Books
Amazon: http://nich.in/amazbp
For a readable pdf version with each section of this mindmap on letter size paper go to http://nich.in/blueprint