Picnic08: Loic Lemeur 3 phases of internet
by
Clo Willaerts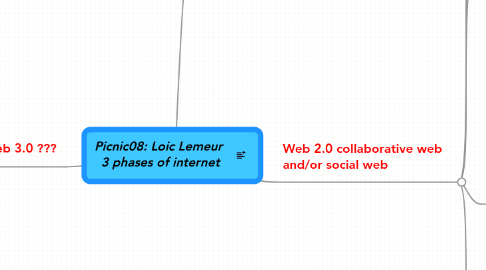 5.0
stars -
1
reviews range from
0
to
5
Picnic08: Loic Lemeur 3 phases of internet
This is just a demo map that you can delete right away, if you feel like it...
Web 1.0: user generated content
users PUBLISH content
easy CMS, blogging
weakness: identity "On the internet, nobody knows you're a dog", Picnic08: Géraldine Bell: "It lies in men's nature to lie. So we lie online.", confessions e.g. postsecret.blogspot.com
opportunity: Measurement & data mining: a marketeers gold dream (?)
users DISTRIBUTE content
google.com: findable content
YouTube.com: webvideo (not just text)
content syndication & RSS
copyright and digital rights management issues
e-mail: opt-in legislation, spam, newsletters
Web 2.0 collaborative web and/or social web
wikis
Picnic08 Clay Shirky: "Groups are not efficient" (e.g. flame wars)
comments
"Join the conversation"
"Start the conversation"
myth debunking
"Transparancy terror" e.g. Photoshop Disasters
e.g. youthoughtwewouldntnotice.com
social networks
Spectacular growth of user base in 2007 myspace, netlog, facebook, hyves, ...
Difficult business model Attractive to users but not to advertisers
"Social currency", Status, mood, location, Pictures, e.g. Flickr.com, Event, e.g. abconcerts.be, Memes, e.g. lolcats, Games, e.g. clubpenguin.com, scrabulous, Nike challenge, Picnic08 "Social Gaming"
Activism, mobilise people, Picnic08 Clay Shirky: "Social networks work well for collective action.", Picnic08 Michael Tchao: Nike's Human Race, Picnic08 Ethan Zuckerman: afrigadget.com, Picnic08 water cooler: Jointhepipe.org
art
Picnic08: Aaron Koblin: "The Sheepmarket"
Picnic07: Jonathan Harris Wefeelfine.org
Web 3.0 ???
Picnic08: Loic Lemeur The Instant Web
Twitter.com
Seesmic.com
Picnic08: Rafi Haladjian The Internet of Things
Violet.fr
Tikitag.com