Chas's first mind map
by chas sakayigun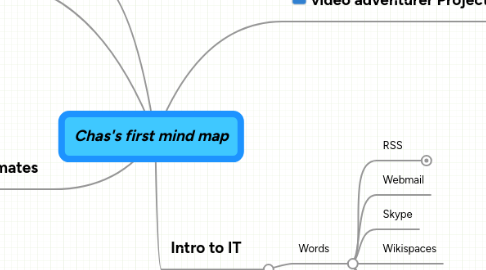 1. classmates
1.1. Felicia
1.1.1. phone # 587-2573
1.1.2. website
1.1.3. email
1.2. chas
1.2.1. email
1.2.2. 587 2109
1.2.3. website
1.2.3.1. my wiki
1.3. begal
1.3.1. 2810080
1.3.1.1. [email protected]
1.3.2. web site
1.3.2.1. my wiki
1.4. arvel
1.4.1. 587-2106
1.4.2. [email protected]
1.5. Serena
1.5.1. Email
1.5.1.1. [email protected]
1.5.2. Phone
1.5.2.1. 587-2497
1.5.3. Website
1.6. caroline
1.7. carrie
1.8. shawna
2. video adventurer Project
2.1. video tour of Neil Dennis Kematch Memorial School
2.1.1. ideas
2.1.1.1. start with entrance to school
2.1.1.2. talk and show classrooms
2.1.1.3. end at entrance
2.1.1.4. show school sign
2.1.1.4.1. ndkms
2.1.2. shots
2.1.2.1. entrance
2.1.2.1.1. time
2.1.2.2. small side
2.1.2.2.1. time
2.1.2.3. big side
2.1.2.3.1. time
2.1.2.4. back door
2.1.2.4.1. time
2.1.3. link to video
3. Intro to IT
3.1. Words
3.1.1. RSS
3.1.1.1. RSS (originally RDF Site Summary, often dubbed Really Simple Syndication) is a family of web feed formats used to publish frequently updated works—such as blog entries, news headlines, audio, and video—in a standardized format.[2] An RSS document (which is called a "feed", "web feed",[3] or "channel") includes full or summarized text, plus metadata such as publishing dates and authorship.
3.1.2. Webmail
3.1.3. Skype
3.1.4. Wikispaces
3.1.5. Blogging
3.1.6. twitter
3.1.7. Social Networking
3.1.7.1. A social networking service is an online service, platform, or site that focuses on building and reflecting of social networks or social relations among people, who, for example, share interests and/or activities. A social network service essentially consists of a representation of each user (often a profile), his/her social links, and a variety of additional services. Most social network services are web based and provide means for users to interact over the Internet, such as e-mail and instant messaging. Online community services are sometimes considered as a social network service, though in a broader sense, social network service usually means an individual-centered service whereas online community services are group-centered. Social networking sites allow users to share ideas, activities, events, and interests within their individual networks.
4. New node
5. New node