B26231 Management & ICT: informatiestrategie en toepassing
by
Arjan van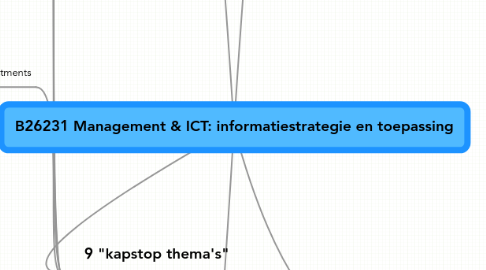 0.0
stars -
0
reviews range from
0
to
5
B26231 Management & ICT: informatiestrategie en toepassing
9 "kapstop thema's"
market structure and industry dynamics
andere structuren/grotere dynamiek -> meer keuzeopties
organisaties blijven deel uitmaken van zakelijk netwerk
basisrollen in netwerk blijven; wel meer keuzeopties voor managen samenwerking/activiteiten tussen (meerdere) partners
analyse raamwerken: waardeketen en vijfkrachtenmodel van Porter
evolving business models
discussie over inrichting besluitvorming en uitvoering
analyse raamwerk is evolving business models, welke kansen kunnen met welke kwaliteiten en bronnen welke waarden genereren voor aandeelhouders en andere stakeholders
impact
twee invalshoeken bij strategische inzet, inwerking ict op primair proces (core operations), inwerking ict op ondernemingsstrategie (core strategy)
strategic grid McFarlan, low on strategy/low on operations: support, goal: improve local performance, leadership: local level, project management: grassroots experiomentation, high on strategy/low on operations: turnaround, goal: identify and launch new venture, leadership: venture incubation unit, project management: new venture devlopment, low on strategy/high on operations: factory, goal: improve performance core processes, leadership: business unit executives, process management: process reengineering, high on strategy/high on operations: strategic, goal: transform organisation/industry, leadership: senior executives/board, project manegement: change management
prioritizing investments
inzet ict benaderen als investering ipv gebudgettereerde uitgave/rechtvaardiging per project
raamwerk prioritering is investeringsmodel voor waardering, type 1 voordelen: genetwerkte ict infrastructuur, infrastructure performance, flexibiliteit, type 2 voordelen: zaken doen op infrastructuur (verbeteren of vormen van nieuwe business op basis infra), efficiency/kwaliteit interne operatie, prestaties kennis werkers, organizational learning
assimilation and organizational learnings
aanleren nieuwe manieren interactie en werken
raamwerk identificatie van a&o in 3 fasen, opportunity identfication and investment, grassroots experimentation, local implementation and risks, challenge: identify technologies that show promise, organizational learning and adaptation, broader investment levels of successful grassroots efforts, two evolutionary paths, bpr based on technologies crossing boundaries, evolving into new busines units, rationalization and continuous evolution, technology embedded in core operations/strategy, challenge: develop structures to ensure implementation while not stifling innovation
buy versus make
preference has shifted from make to buy,rent or subscribe
outsourcing strategic IT systems -> realtionships with IT vendors/providors became strategic alliances
inerorganizational structures/long term strategic partnerships
partnership among key constituencies as ict evolves
four stakeholder groups, business executives, IT executives, users, IT vendors/partners
three eras of technology evolution and mind sets, mainframe, administrative framework: regulated monopoly, target IT use: back office automation, justification: organizational productivity, microcomputer, administrative framework: free market, target IT use: individual decision making/productivity, justification: individual effectiveness, internetworking, administrative framework: shared partnership, target IT use: electronic integration and learning, justification: business advantage
proteting ict assests and manging risks
customer expectation: always on service
dramatical increase abilities to share information/communicate/transact business
dramatical increase in risk
pervasive computing opportunities and risks
IT has become mobile and pervsive
ubiquitous technology
effects will be both helpful and intrusive
creating business advantage with IT
three frameworks
Porter's value chain, four primary roles, supplier, producer, distributor, customer, maximum of market power, economies of scope, network: community uses shared infrastructure to produces/distribute new products and services, economies of scale, 'community' of firms shares infrastructure/capabilites/customer base to produce/distribute faster/better/cheaper, Industrial Economy, innovations favored producers, physical/analog production/distribution: machines, railways, telephones, operating model: assembly line, marketing, sales, service, management model: hierarchy, social/regulatory system: specialized work, worker education, Network economy, digital production/distribution: networks, multimedia content, operating model: networked, integrated supply and buy chains, management model: networked, teams, partnerships, consortia, social/regulatory system: ownership incentives, freelancing, virtual work, distancy learning
Porter's industry and competetive analysis (ICA), five basis economic/competitive forces, bargaining power suppliers, bargaining power buyers, threat new entrants, threat substitute products/services, competitive intensity/postioning business vs rivals, three generic strategies, leadership, differentiation, focus, strategy embodies two choices, lower cost or differentiate products/services (competitive mechanism), target broad market or narrow one (competitive scope)
McFarlan's strategic grid
five questions to guide strategic decision
can IT be used to reengineer core value activities and change basis of competition?
can IT change the nature of relationships and balance of power among buyers and suppliers?
can IT build ord reduce barriers to entry?
can IT increase or decrease switching costs?
can IT add value to existing products/services or create new ones?
crafting business models
raamwerkondernemingsmodel
drie componenten, concept, capabilities, value
componenten gekoppeld via financiële modellen van organisatie, revenue model, cost model, asset model
netwerk economie -> nieuwe regles/aannamen -> mentale modellen -> beslissingen/acties
classificatie ondernemingsmodellen
basis rollen (identiek aan industriële economie), producenten, distribiteur, consumenten
rollen worden in netwerk economie uitgebreid
onderscheid tussen zakendoen via internet en aanbieden infrastructuur, zaken doen, producers, zes modellen, manufacturers, service providers, educators, advisers, information/news services, producer portals, onderscheidende aspecten, fysiek producten en/of face to face diensten, informatie gebaseerde diensten/producten, producten/diensten op maat, focused distributors, vijf modellen, retailer, marketplaces, aggegrator, exchange, infomediary, onderscheidende aspecten, zelf voorraadbeheersing, online verkoop, prijsmechanisme, fysiek product/distributie, portals, drie modellen, horizontal, vertical, affinity, onderscheidende aspecten, toegang verzameling informatie/diensten, toegang diepere inhoud binnen kolom, gebruikersgroep (algemeen of specifiek segment), infrastructuur aanbieders, infrastructure producers, vier modellen, equipment/component manufacturer, software firm, custom software/integration service provider, infrastructure services, onderscheidende aspecten, produceren componenten of apparaten, ontwikkelen packaged software, architectuur diensten of consulting, focused infrastructure distributors, vier modellen, infra retailers, infra marketplaces, infra aggregators, infra exchanges, onderscheidende aspecten, eigen voorraadbeheersing, online verkoop, prijsmechanisme, fysiek product/distributie, infrastructure portals, twee modellen, horizontal infra portal, vertical infra portal, onderscheidende aspecten, toegang tot netwerken, gegevensbanken of webservices, hosting of onderhoud, toegang hosted applicaties/services
evolving models
netwerk onderneming ontstaan door creatief combineren van modellen
vier benaderingen voor aanpassing model, extend (parallel uitbreiden), nieuwe lijn, nieuw business model toevoegen, enhance (verbeteren), verbeteren functionaliteit, features toevoegen, expand (serieel uitbreiden), nieuwe producten/diensten, geografisch uitbreiden, exit (uitstappen), bruikbaar voor kansen/bedreigingen analyse
building networked businesses
blueprint
drie categorieën, bedrijfsprocessen en innovatie, hiëarchisch, vaste procedures, functionele units, topdown communicatie, ondernemersmodel, niet exact gedefinieerde procedures, processen onderhevig aan verandering, netwerkmodel, procedures goed gedefinieerd, procedures snel aanpasbaar voor innovatie, ict ingericht op verandering, management en leren, hiërarchisch, sturing topdown, strategische veranderingen vooruit gepland, formele planning en budggettering, problemen oplossen binnen grenzen of via hiërarchie, ondernemersmodel, uitvoering activiteiten informeel en ad-hoc, realtime informatie en kansen, snelle reaktie op basis van ervaring noodzakelijk, vaardigheden: bedrijfsprocessen en innovatie, netwerkmodel, combineren hoog niveau controle/integratie en cyclisch leren door uitvoeren, ict maakt dit mogelijk maar is niet voldoende voor lerende organisatie, vaardigheden: management en leren, leiderschap en betrokkenheid, hiërarchisch, complexiteit minimaliseren, management overschaduwt leiderschap, weinig reaktiesnelheid tbv veranderingen, netwerkmodel, visie delen, tactische initiatieven voor bereiken doelen, aandacht nodig voor vermijden schadelijke activiteiten empowered teams, vaardigheden: leiderschap en betrokkenheid
ic maakt combinatie hiërarchisch en ondernemers ondernemingsmodellen mogelijk
making the case for networked business
changing economics
industriële economie, specialisatie fabrieken/functies/personeel, scopevoordelen door verbeteringen ontwerp/functies (bij bestaande infrastructuur ), groei door consolidatie, grote barrières toetreding markt, nichemarkten voor kleine leveranciers
netwerkeconomie, schaalvoordelen door gemeenschappelijke infrastructuur/bekwaamheden, scopevoordelen via gemeenschap: nieuwe producten/diensten, markten of businesses, snelle toetreding markt mogelijk
analyzing performance drivers
bedrijfsconcept geeft vorm gebruikte veronderstellingen om inkomsten te voorspellen
capabilities: vorm van veronderstellingen om kosten te voorspellen
business case, twee baten categoriën, type1, ontstaan door investeringen in genetwerkte ict infra, verbetering interne/externe functionaliteit en flexibiliteit, type2, ontstaan dor exploiratie nieuwe zakelijke mogelijkheden, drie subcategoriën, commerce: interne en externe processen verbeteren, content/knowledge: benutten kennis om resultaten/besluiten te verbeteren, community: betrokkenheid/loyaliteit stakeholders vergroten