The Giant Panda
by
frances harrigan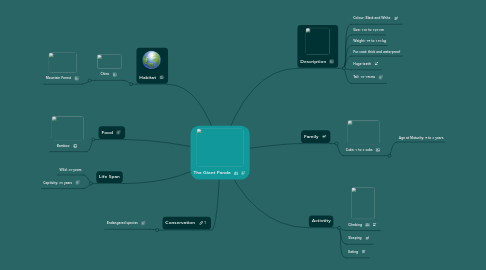 0.0
stars - reviews range from
0
to
5
The Giant Panda
Name: Panda Bear (Ailuropoda melanoleuca) Kingdom: Animalia Phylum: Chordata Subphylum: Vertebrata Class: Mammalia Subclass: Theria Order: Carnivora Family: Ursidae
Description
Colour: Black and White
It has black fur on its ears, eye patches, muzzle, legs, arms and shoulders. The rest of the animal's coat is white.
Size: 160 to 190 cm
Weight: 75 to 130 kg
Fur coat: thick and waterproof
Huge teeth
The panda has huge teeth and strong jaws to eat bamboo, which is very tough.
Tail: 10-15cms
The panda's tail is the second longest in the bear family. The longest belongs to the Sloth Bear.
Habitat
China
Food
The giant panda is a carnivore, but its diet consists mainly of bamboo and other wild plants. It will also eat small animals and birds.
Bamboo
Life Span
Wild: 20 years
Captivity: 30 years
The recorded age of the oldest captive giant panda, a female named Ming Ming, is 34
Family
Panda Bears live alone except when breeding
Cubs: 1 to 2 cubs
Activtity
Climbing
The panda is a very good climber.
Sleeping
Giant pandas spend between 8 and 12 hours a day sleeping.
Eating
The panda spends about 14 hours a day eating.
Endangered species
The species is threatened by continued habitat loss and by a very low birthrate, both in the wild and in captivity.