Does a community need a "Place"?
by
John Smith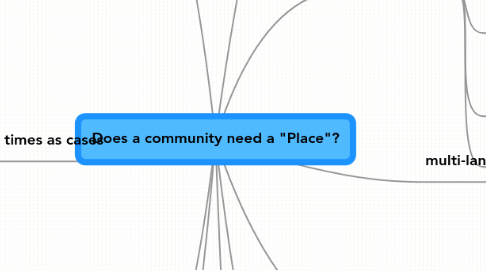 0.0
stars -
0
reviews range from
0
to
5
Does a community need a "Place"?
What new questions could we ask?
What's the difference between market & mall?
What evokes a sense of place
Different perspective of owner vs other
Practices for "concentrating place"
versions in practice
Mall
Marketplace
multi-language online
automatic translation
collaborative glossary building
Is it important for a CoP?
Untitled
individual variance
holographic nature
Sense of community confounded with sense of place?
Ability to migrate
Practices to deal with lack of?
What does place mean?
Metaphors
swimming in the same stream
place = identity
Embodiment
Home
Language
MY place vs COMMUNITY space
Third place
Technology issues
Using email threads and a wiki to organize the Setubal conference was kind of a mess
practice
affordances of specific applications
Shared places
Naming
Do we have technologies for building maketplaces no Malls?
Neccessary practices
What can technologies & our use of them do?
Examples / times as cases
Bron
Bev
Derek
Maarten
Josien
John
Alasdair
Bev
Joao
Shirley
Values
Structure
Intentional
Insider / familiarity / comfort
Anxiety
fluiditiy
self-selective
Scale / holographic
Sponsorship
Project
Self-supporting community
Purchasing a CoP
Go to the doctor for a prescription
intention
Diagnoses
Books & references
Cathedral & the bazaar
Alexander: pattern language
Oldenburg: The Third Place
Alexander: Timeless way of building
Bron has: socialy autistic online spaces