Parental Involvement is Positively Related to Achievement-But what kind of Involvement is most Effective?
by ecop5 ecop5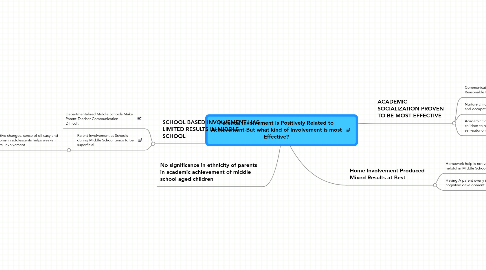 1. ACADEMIC SOCIALIZATION PROVEN TO BE MOST EFFECTIVE
1.1. Communicate Clear and Reasonable Expectations
1.2. Nurture children's academic and occupational aspirations
1.3. Academic Socialization allows children to retain self-autonomy.
2. SCHOOL BASED INVOLVEMENT HAS LIMITED RESULTS IN MIDDLE SCHOOL
2.1. Departmentalized Middle Schools Make Parent-Teacher Communication Difficult
2.2. Parent Involvement at Schools during Middle School tends to be superficial
2.2.1. Cognitive changes, sense of efficacy and autonomy in adolescents helps weaken parental involvement
2.2.1.1. acadmic socialization
3. Home Involvement Produced Mixed Results at Best
3.1. Homework help is not very helpful in Middle School.
3.2. Having A parent overly involved in a child's cognitive development may inhibit self-autonomy.
4. No significance in ethnicity of parents in academic achievement of middle school aged children