Minisuper
by Jessica Cobian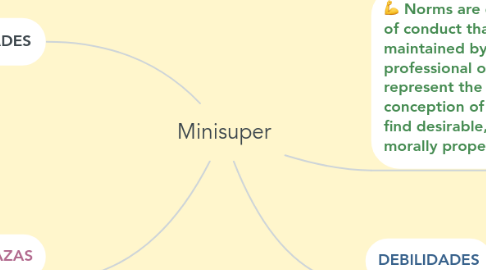 1. Norms are established standards of conduct that are expected and maintained by society and/or professional organizations. Values represent the collective conception of what communities find desirable, important and morally proper.
1.1. Calidad de productos
1.2. Frescura
1.3. Servicio de parte de nuestros trabajadores
1.4. Nuestros bajos costos
1.5. Cubrimos las necesidades basicas
2. OPORTUNIDADES
2.1. Tendencia de los productos de las necesidades básicas.
2.2. Acercar productos de alta calidad a las personas
2.3. Ubicación
2.4. Expansión por alta demanda sobre los productos
3. DEBILIDADES
3.1. A pesar de los costos bajos a lo normal, que no lleguen a entrar en sus posibilidades.
3.2. Desconocimiento de los productos
3.3. Que no llegue a ser rentable
4. AMENAZAS
4.1. Nuevos competidores
4.2. Competencia ya existente en el manejo de minisupers