HIV AND AIDS IN BRAZIL
by Ilária Rossi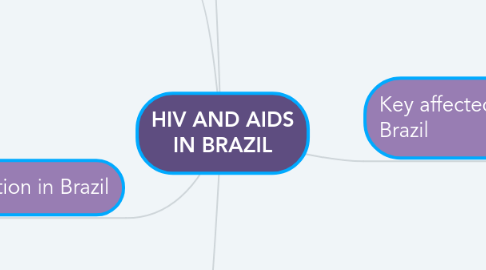 1. Key affected populations in Brazil
1.1. People who inject drugs in Brazil
1.1.1. 5% to 5.3% had HIV between 2008 and 2016
1.1.2. harm reduction strategy
1.1.2.1. free needle
1.2. Prisoners in Brazil
1.2.1. Incidence is accelerated by vulnerabilities
1.2.1.1. overcrowding
1.2.1.2. violence
1.2.1.3. legal and policy constraints
1.2.2. 2014: National Policy on Comprehensive Health Care for Prison Populations
1.2.2.1. access to testing and counselling
1.2.2.2. treatment and care
1.2.2.3. information
1.2.2.4. education and communication
1.2.2.5. prevention
1.2.2.6. diagnosis and treatment of tuberculosis
1.2.2.7. availability of condom and needle and syringe programmes.
1.2.3. Freedom to Look project
1.2.3.1. works with prison system workers
1.2.3.2. on prisoners' human rights
1.3. Sex workers in Brazil
1.3.1. 5,3% have hiv
1.3.2. 90% used a condom with their most recent client
1.3.3. 17.5% were tested in 2015
1.3.4. Community empowerment is a key factor
1.4. Men who have sex with men in Brazil
1.4.1. 10,5% have hiv
1.4.2. In 2015, 16% had experienced some form of sexual violence
1.4.3. Brazil is the country that kills more transgender people in the world over
1.4.4. Is needed an approach that considers the needs of this population
2. HIV testing and counselling in Brazil
2.1. The Brazilian Department of STD / AIDS and Viral Hepatitis (DDAHV) decentralized its HIV testing services
2.1.1. increased the use of rapid tests
2.2. Strategies to increase testing among key populations
2.2.1. In 2013, 40 NGOs were trained in rapid testing for HIV, with a focus on people most at risk.
2.3. 37%, of sexually active adults had been tested at least once
2.4. Mobile HIV testing
2.4.1. project "Quero Fazer"
2.4.1.1. It targets men who have sex with men and transgender people
3. Antiretroviral treatment (ART) in Brazil
3.1. 60% adults aged 15 years and older were doing ART in 2016
3.2. Free ARVs are available to all Brazilians living with HIV.
3.3. Treatment as Prevention
3.3.1. in 2016 54% of those on ART in Brazil had been virally suppressed
4. HIV prevention in Brazil
4.1. 96% of Brazilians identify condoms as a barrier that can prevent the spread of sexually-transmitted infections (STIs) and HIV
4.2. Only 25% of the population reporting condom use in all sexual relations.
4.3. Reported condom use in key populations is higher than that observed in the general population
4.4. Pre-exposure prophylaxis (PrEP)
4.4.1. the higher an individual's perceived risk of HIV, the more likely they are to seek and use PrEP.
4.5. Barriers to HIV prevention in Brazil
4.5.1. its inclusion of a human rights perspective
4.5.2. violence
4.5.3. stigma
4.5.4. discrimination
5. The future of HIV and AIDS in Brazil
5.1. Brasil has received international acclaim for a comprehensive public health approach
5.2. remains a significant challenge for the country.
5.2.1. number of new infections
5.2.2. the scale of the epidemic among key affected populations.
5.3. Brasil continues to be a leader in the manufacture of generic ARVs
5.3.1. has been a key factor in the cost-effectiveness and efficiency of its drug provision
5.4. in 2015 only 6% of its HIV response budget was allocated to effective prevention.